At the end of June, I travelled to the region of Provence with Marina (@marichankobe) and Ophélie (@labengale) for a crazy weekend in the lavender fields. I had the best time of my life! It was my first time in this part of France, and I instantly fell in love! This post is full of information and some of my favorite pictures ever! So if you're planning or dreaming of a trip to Provence, keep reading, I'm giving you our whole itinerary!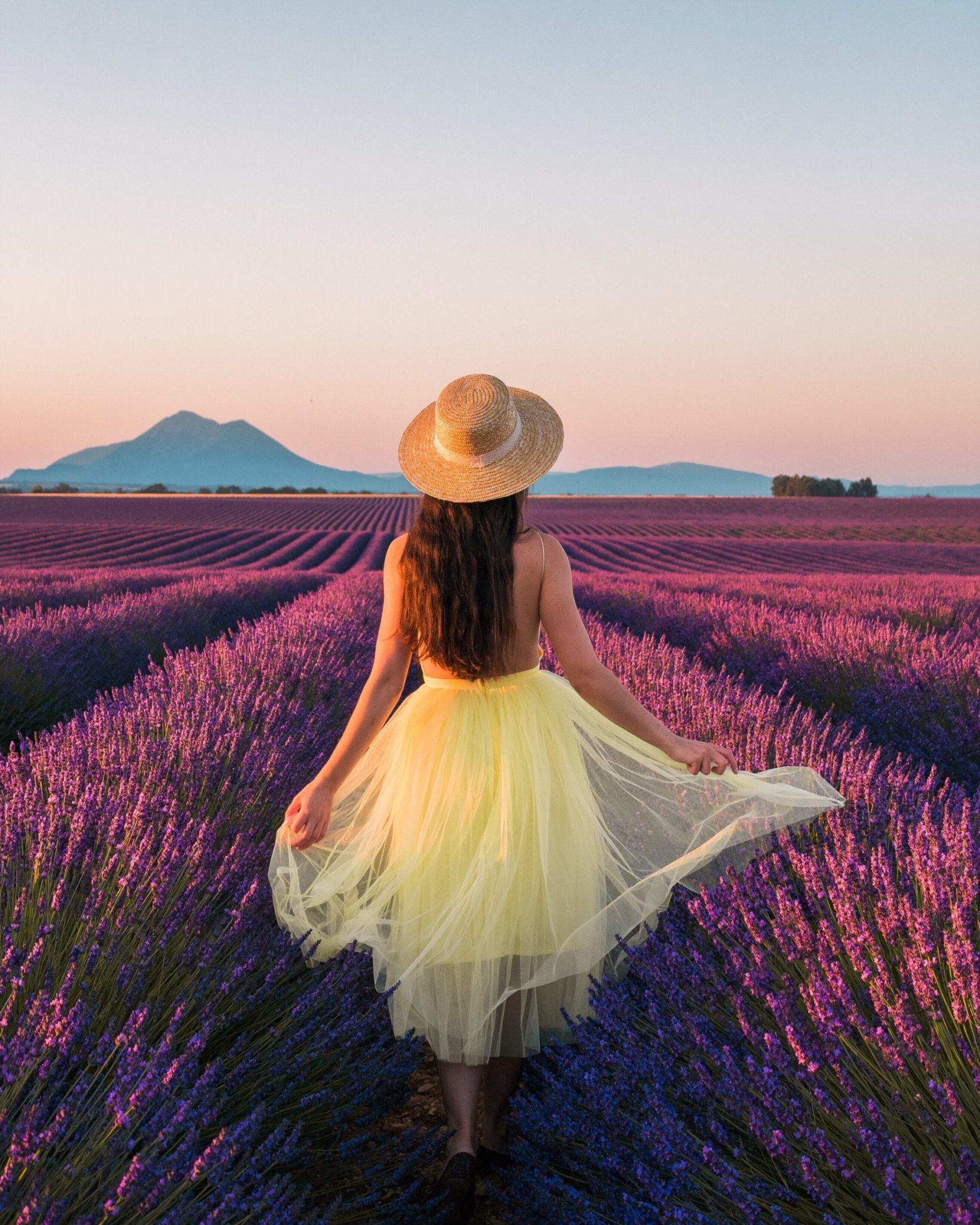 Day 1
We arrived on a Friday evening to Aix-en-Provence's train station with Marina. From Paris, the journey is 3 hours long. Ophélie picked us up by car there.
The plan was to go directly to our Bed and Breakfast, in Oraison (an hour away), but we found a beautiful sunflower field (summer is the right season for them too, just like for lavender). And the bonus was the sunset in the distance!
They are many sunflower and poppy fields in this area, so make a stop to admire them.
Around 9PM we finally arrived in our B&B: La Maison dans l'Olivette. We booked a room for three persons, for two nights there (260 euros). The most adorable couple ever welcomed us. Their house is truly beautiful, and they have a view over Valensole's plateau.
Day 2
We woke up at 4:30AM given that we wanted to chase the sunrise over the lavender fields. We got ready and headed to Valensole. It's 20/30 min long from Oraison.
Along the main road (called the D8) from Valensole to Puimoisson, we found our purple heaven: there were lavender fields all along the way. We parked the car along the road, given that there is no parking lot, and started to walk until we found our spot.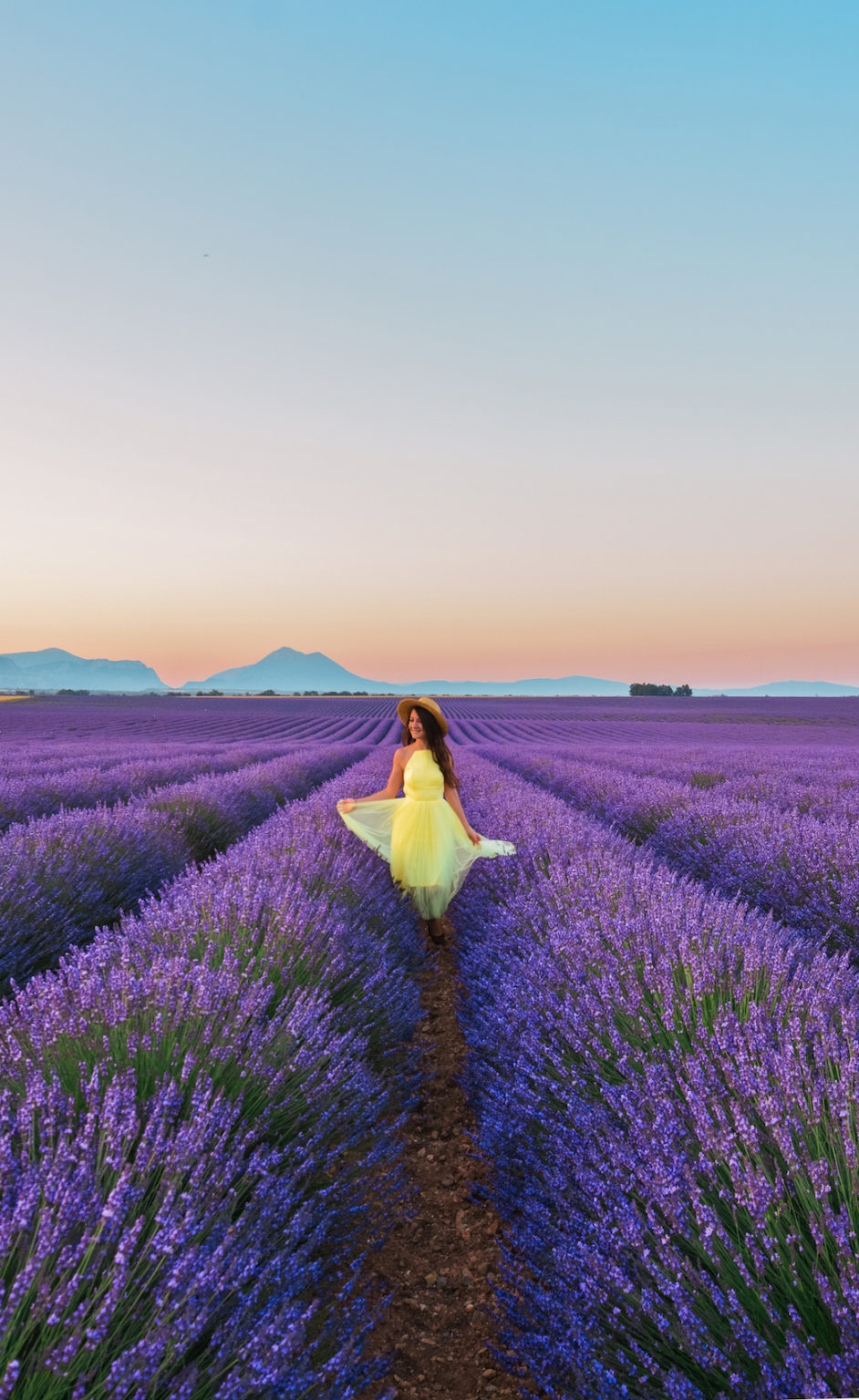 Be aware of the popularity of the place. Instagram has made this area really popular, so even at sunrise, you'll find some spots really busy with photographers! For example, this little house in the middle of the field is definitely a superstar, and we couldn't stay and take pictures without disturbing the other photographers.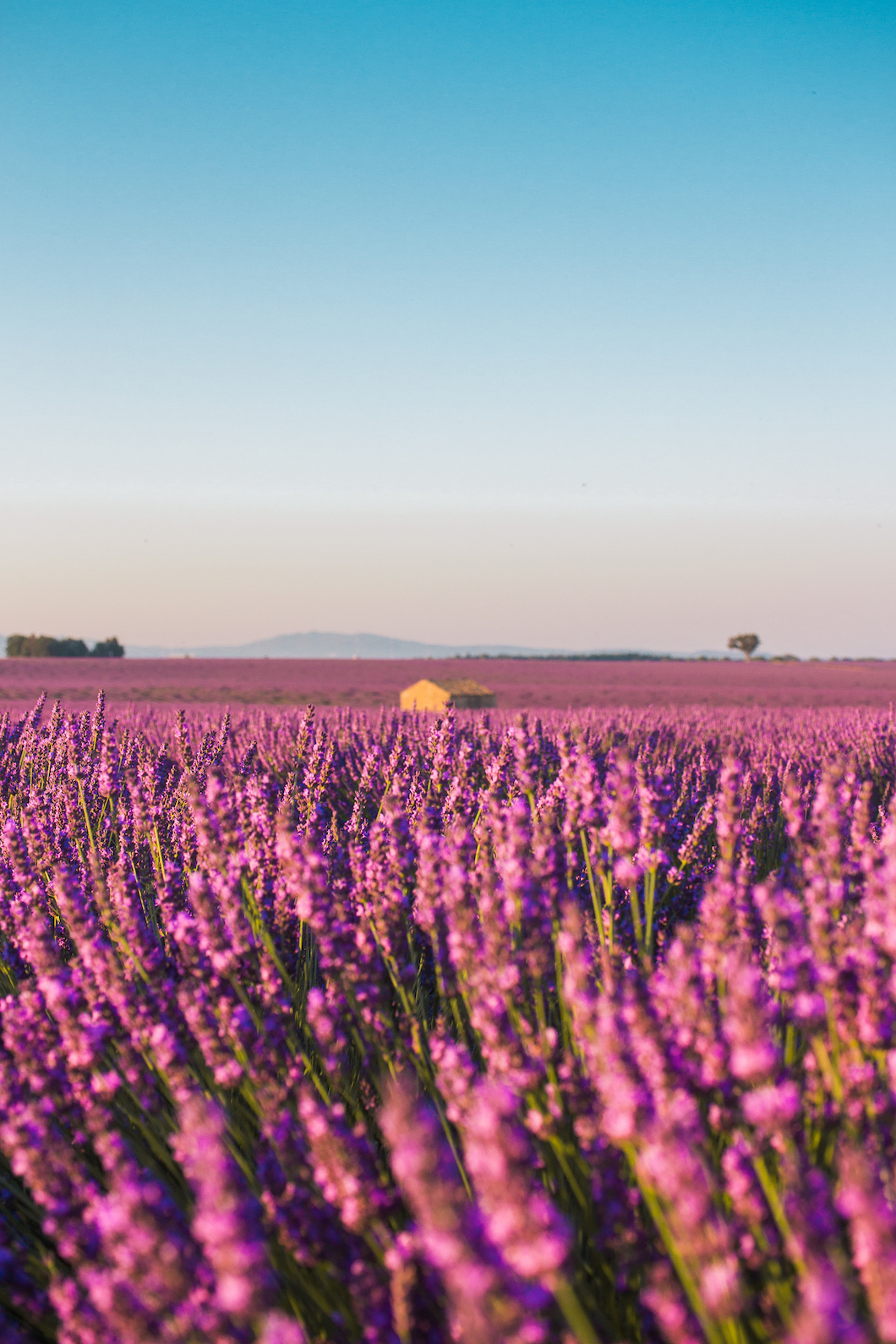 I'm not gonna lie, it was magical. That's the word for it. Witnessing the sunrise over the fields was a fairytale moment (not exaggerating, Disney would do wonders with these landscapes). The lavender changed color in front of our eyes: from deep dark blueish-purple, it became vibrant pinky-purple! Absolutely surreal! And obviously the smell was amazing!
At sunrise, the bees wake up as well and start their wonderful work, so be careful! If you don't disturb them, they won't disturb you!
After our incredible time in the fields, we went to check the view over Sainte-Croix du Verdon, which definitely deserves a stop, and also took a few pictures in a sage field, before heading back to our B&B for breakfast. We also went for a swim in the pool.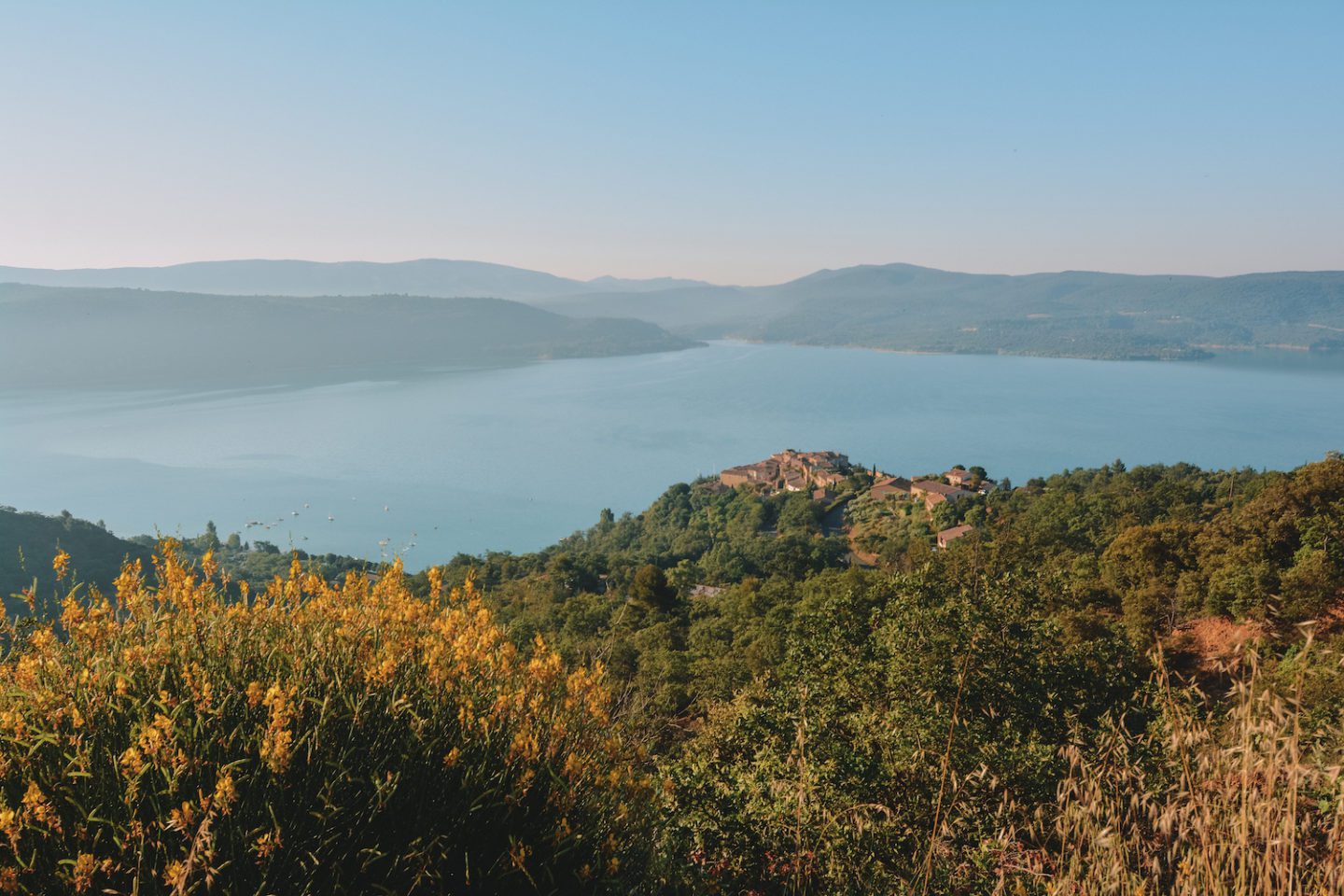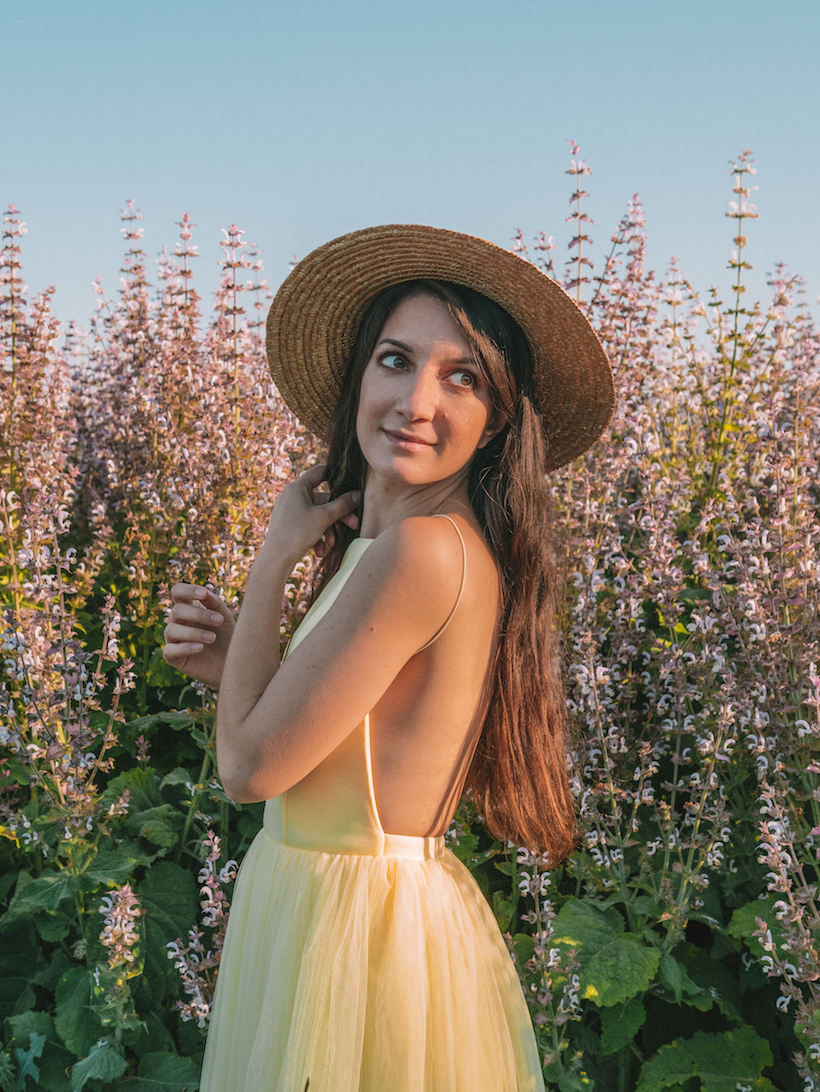 Around noon, we went to Les Gorges du Verdon. It's an 1,5 hour away from Oraison. The canyon is located on the east side of Verdon Lake. It is about 25 kilometres long and up to 700 meters deep. Its crystal blue water is out of this world and we were amazed when discovering it.
We parked our car, and rented a canoe: 20 euros for one hour, and they don't accept credit cards, only cash, so be prepared!
And off we went to discover Les Gorges. It's a really popular place during summertime, and a lot of people go canoeing. So come early in the morning or around noon, during June it's still quite calm.
There are waterfalls along the canyon and the view is unique. You can make a stop to take a climb and jump into the water.
If you like hiking and have enough time, there are many beautiful trails around les Gorges.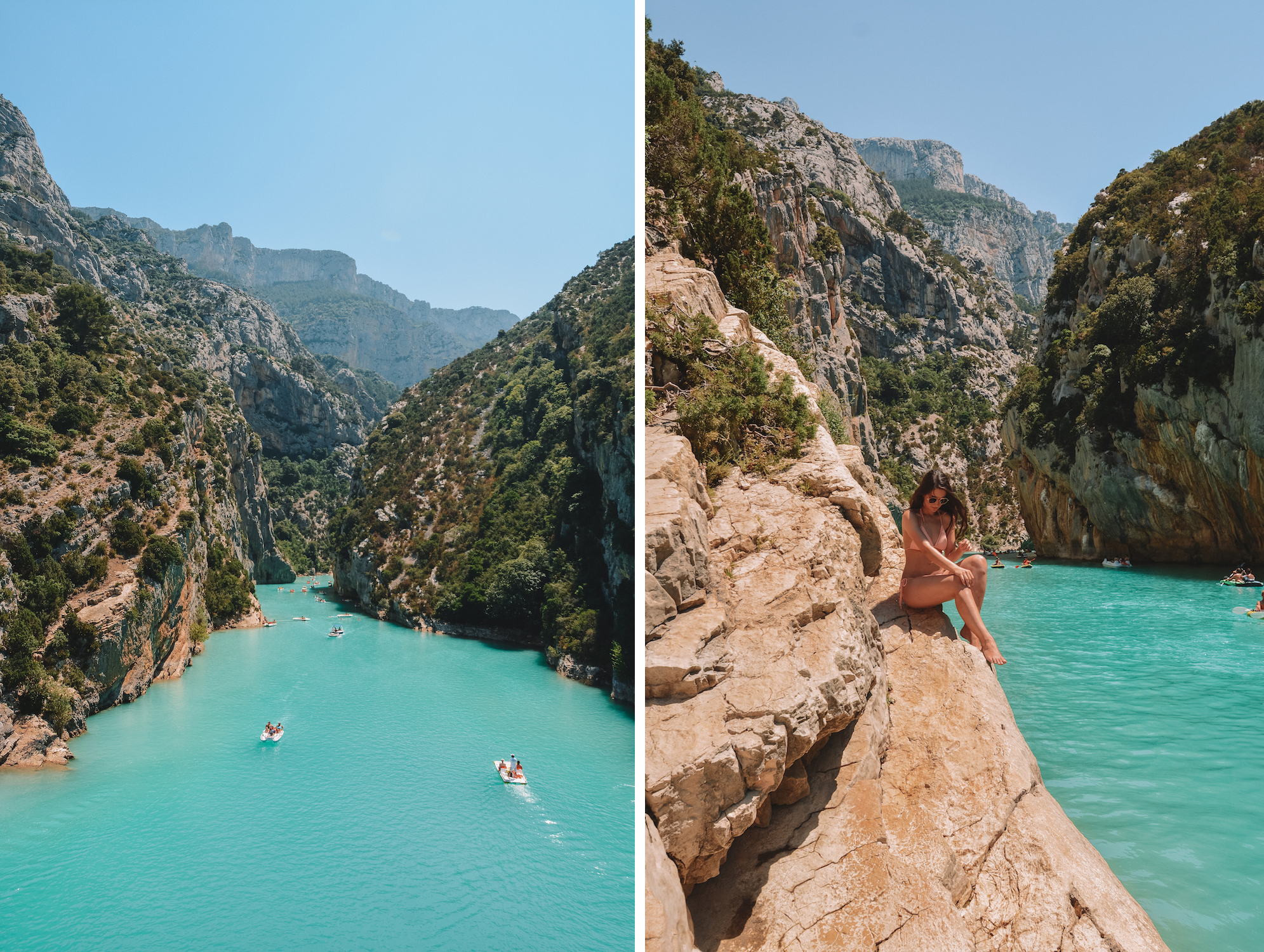 From there, we drove to the village of Moustiers-Sainte-Marie, also known as one of the most beautiful villages of France. A waterfall falls onto the town from up above and you can drink its water from public fountains that you can find everywhere in the village. Moustiers-Sainte-Marie was built on platform terraces a hundred or so metres up the side of a limestone cliff.
It's a charming village, with little cobblestone streets. You can even go up to Notre-Dame de Beauvoir, if you don't mind the stairs, and see the view over the village and the landscape.
If you're looking for a souvenir to bring home, know that the village was a center of the pottery trade, especially faïence, for centuries!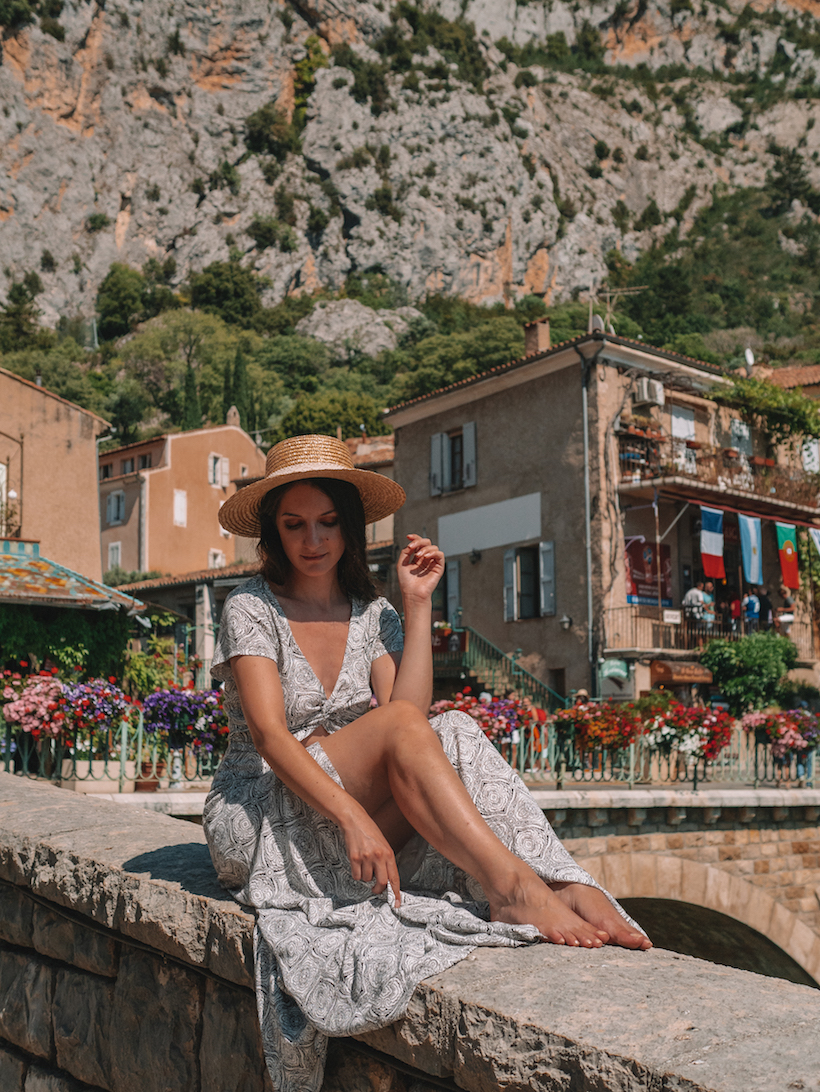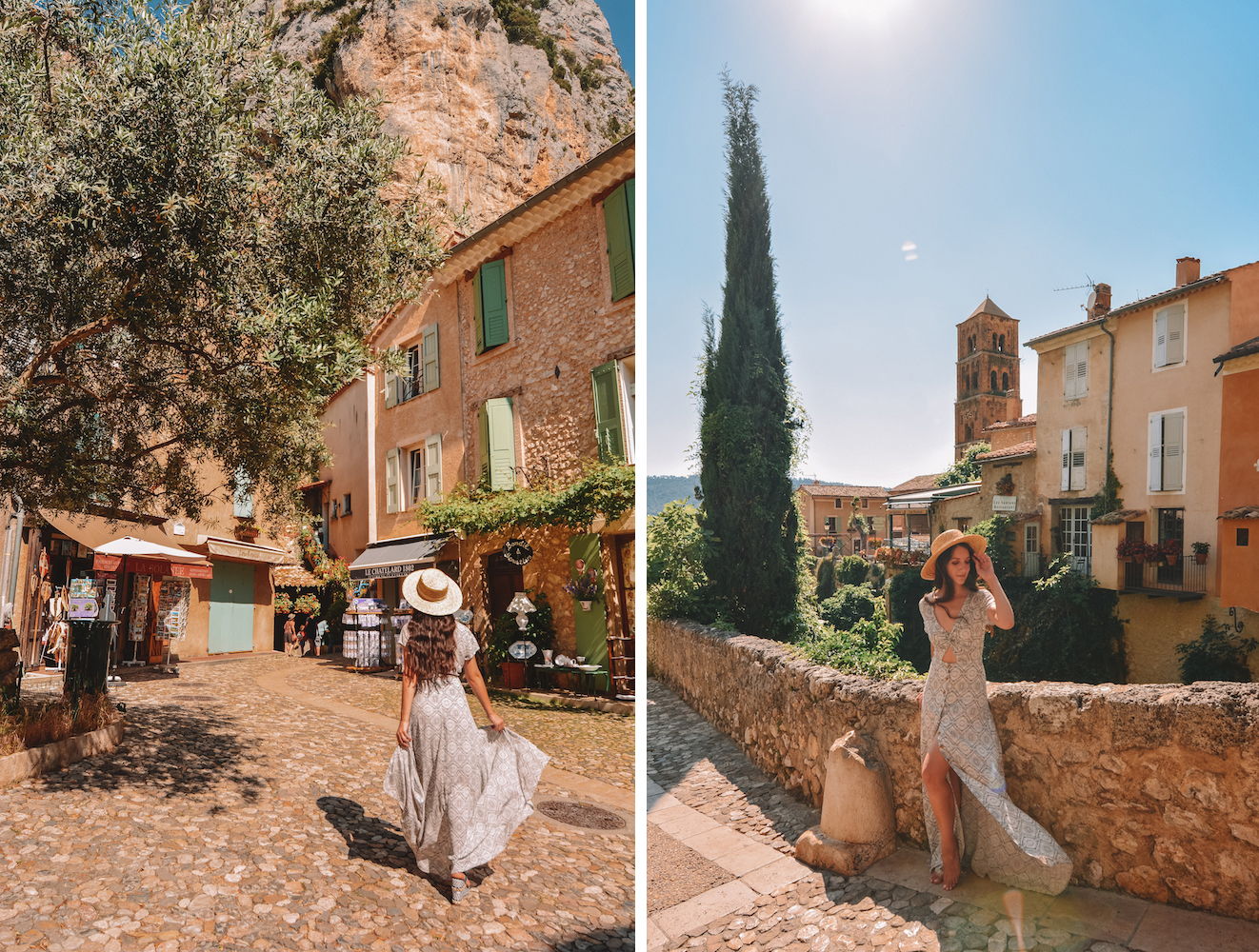 Around 6Pm we went back to our B&B, to enjoy the swimming pool again before heading back to the lavender fields for sunset.
This time, we didn't stay on the main road, but drove inside the fields (there are some dusty roads you can take). We wandered until we found our perfect spot. It was less crowded than in the morning, given that most people stay on the main road. Therefore we had all the time we wanted to enjoy the place by ourselves!
Sunset is as magical as sunrise there, the fields change color, but the sun goes down quickly, so don't miss it! And it's also the time that bees to go to sleep, so you won't bother them as much.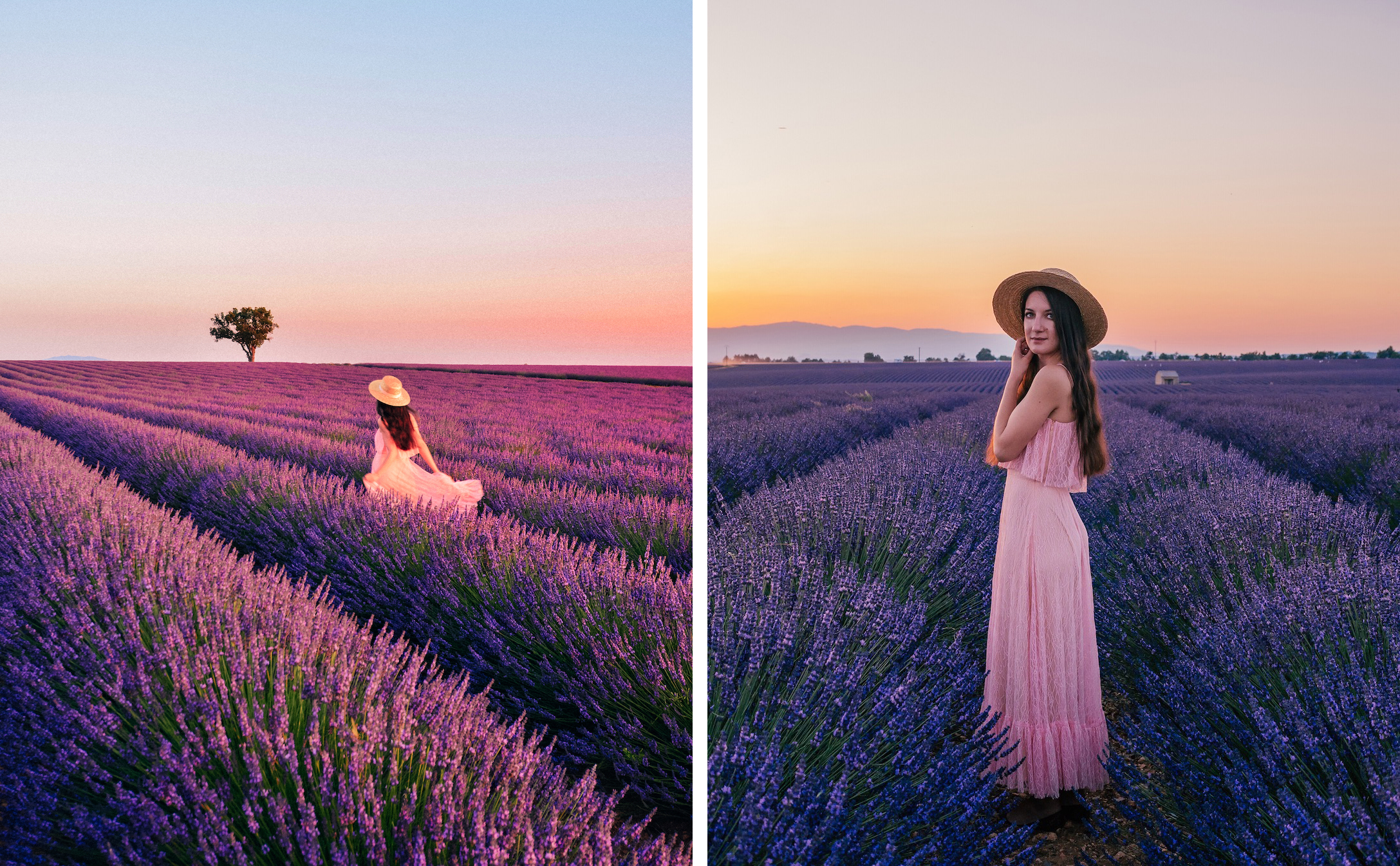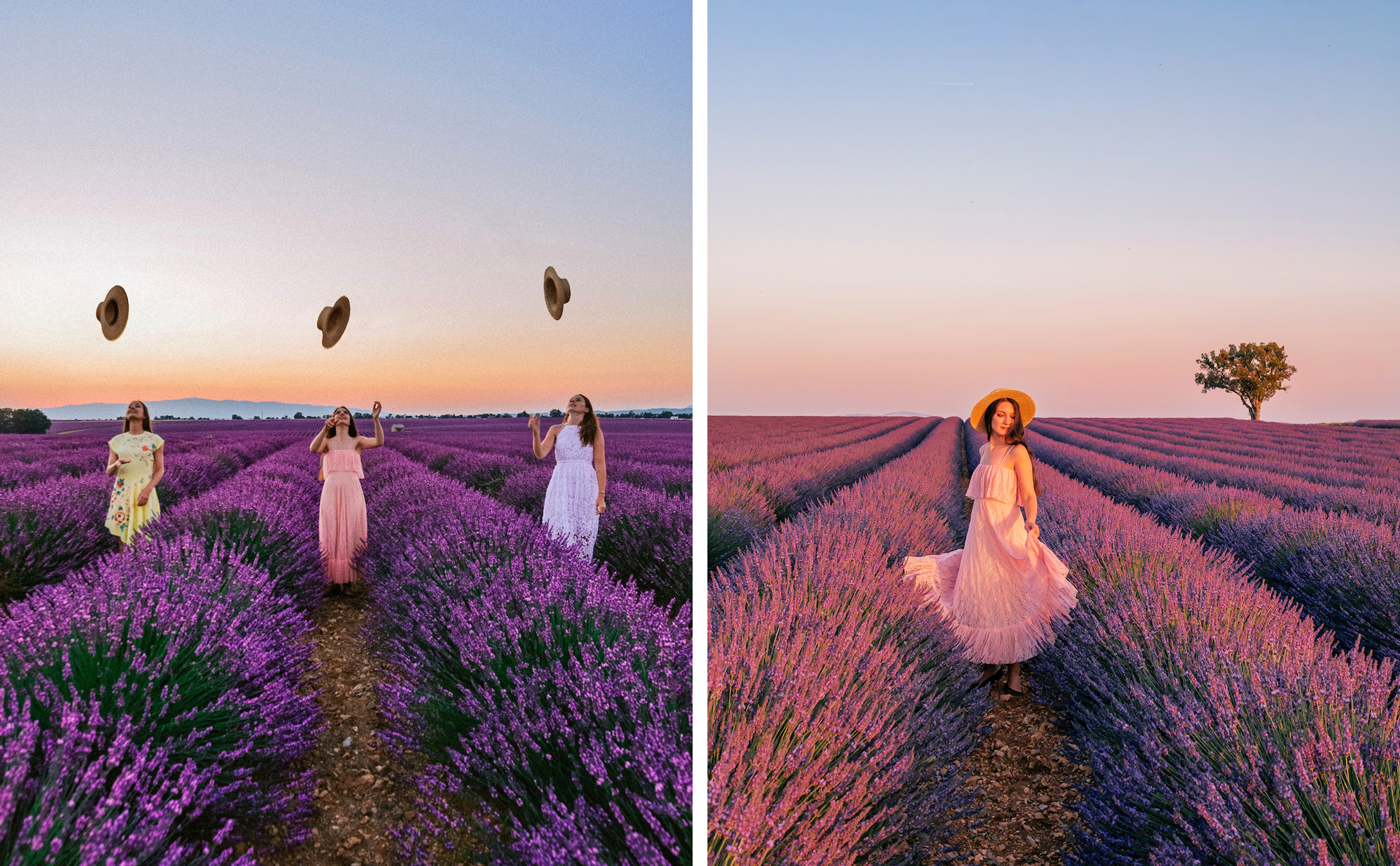 Day 3
After saying goodbye to our wonderful hosts, and the last swim in the pool, we headed to Senanque Abbey, founded in 1148!
We were surprised by the amount of tourists, coming in big tourist buses in this tiny place. The road is a one-way and it was difficult to find a spot to park the car. So we decided to skip the visit as it was too crowded and stayed in front of the abbey and its lovely lavender field.
It's definitely a place I want to visit next time, so I'll go early in the morning or late in the day, to be able to fully enjoy it.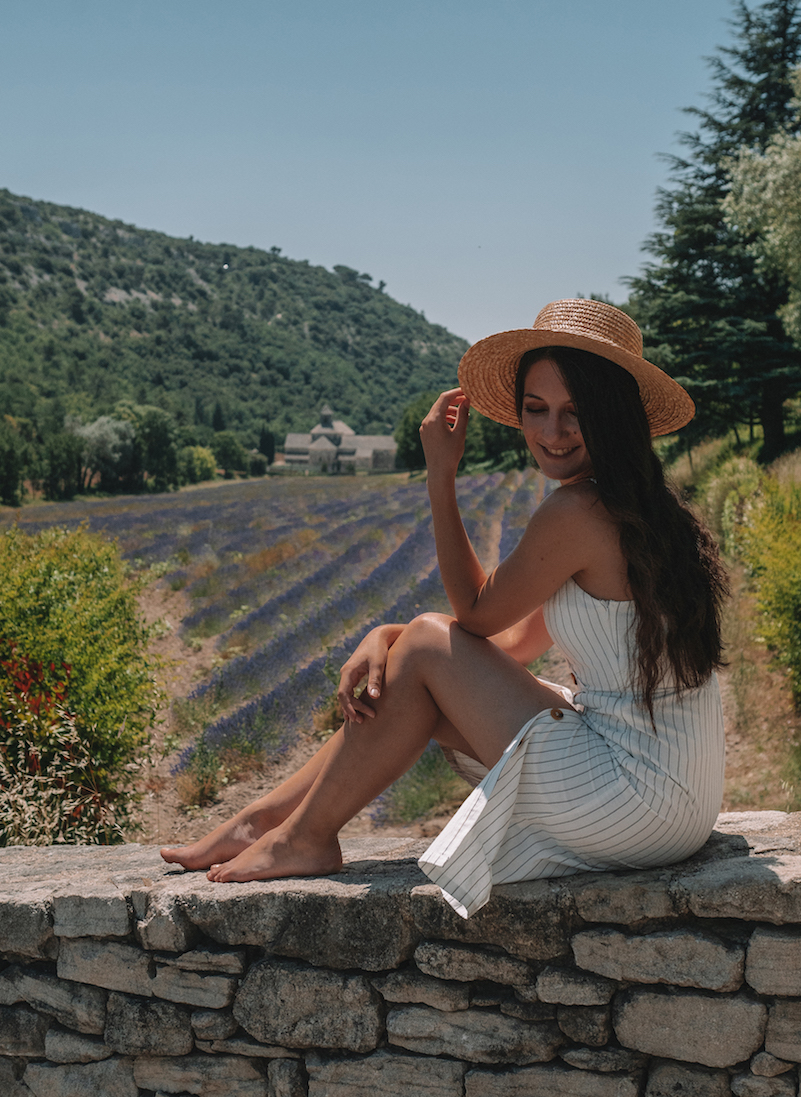 Fifteen minutes away, you'll find the lovely village of Gordes, built on a cliff.
Get your cash ready for the parking lot, as you won't find any free spot. This village is in fact very popular, one of the most visited villages in the area actually!
We wandered through the cobblestoned streets, going up and down the cliff, and also admired the castle, which is a thousand years old!
As a final stop to our trip, we went to the viewpoint overlooking the village. Personally, it was my favorite part of the day, as you can really admire the beauty of this place in its entirety!
Next time, I'll go at sunset, I bet it's even more amazing!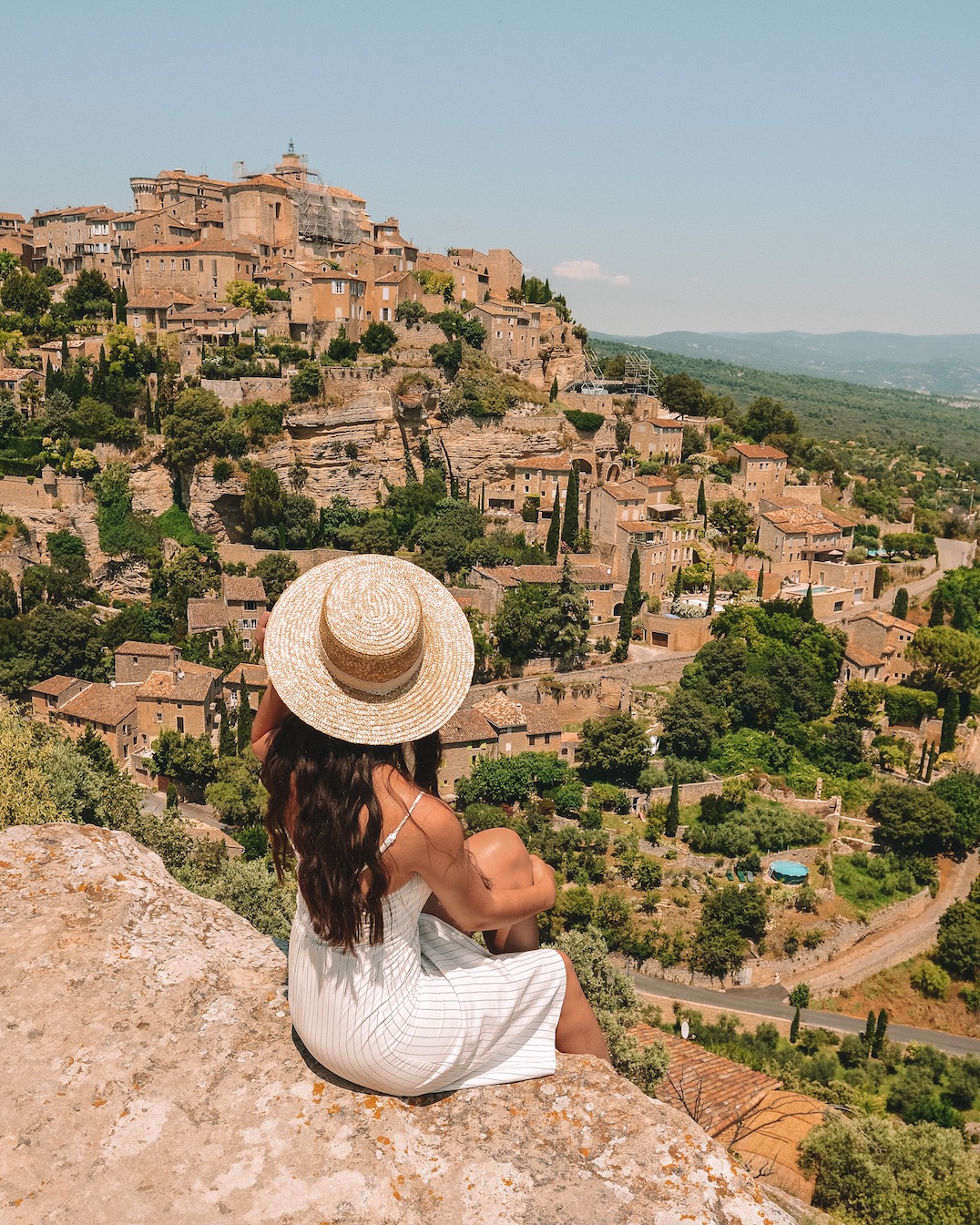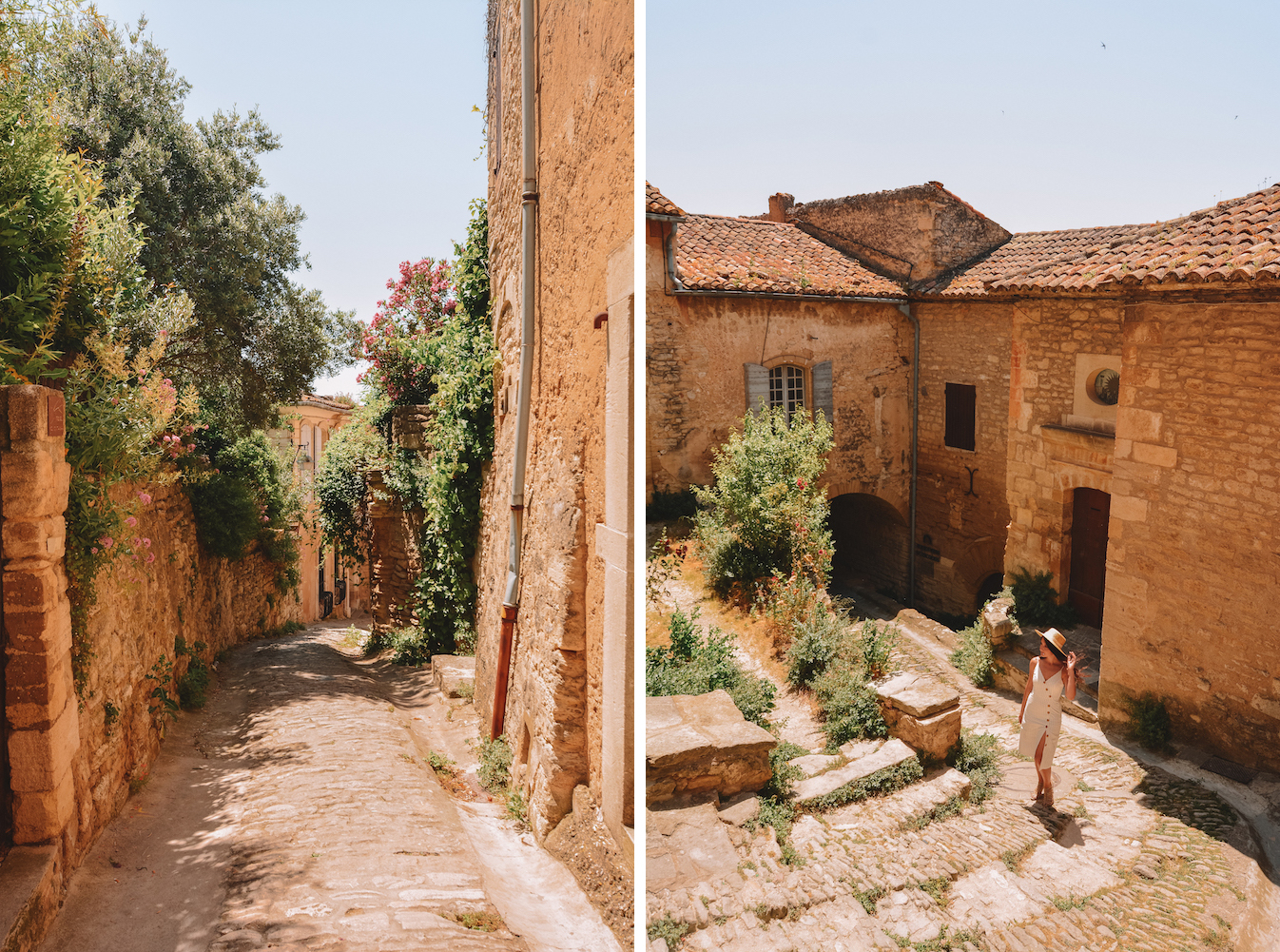 DID YOU KNOW?
Did you know this is not "lavender" (lavande in French)? It's "lavandin", it's a hybrid that grows between 200 and 600m above sea level, while "lavande" grows over 800m. Lavande is more precious (and expensive) and used in high-end perfumes. Lavandin is more easily produced and is used in household products.
GIVE IT A TRY!
Lavender essential oils:
Obviously, you'll find lavender essential oils everywhere in the area (next to lavender perfume, lavender soap etc.). If you have anxiety or if you're stressful, consider putting some on your pillow, or rub some on your wrists. I've been using some for a while now, and it really helps!
Hot Air Balloon:
Yes you can watch the beautiful lavender fields from a hot air balloon! We didn't know about it until we saw a hot air balloon when we were in the fields. It costs 230 euros per person. I think it could be an incredible experience!
Other villages:
We only stayed two days, so we didn't have time to visit everything. But here are a few villages that you can also check out
L'Isle-sur-la-Sorgue
Saint-Paul-de-Vence
Saint-Rémy-de-Provence
Oppède
Vénasque
WHAT YOU NEED TO KNOW
We planned this trip a few months ago, as we didn't want to miss the lavender season. The most important information you need to know is: they harvest the lavender fields around mid July. So you must go in June/beginning of July.
HOW TO GET THERE
If you don't live nearby, the easiest way to get there is by train. Buy your ticket to Aix-en-Provence and from there rent a car. You can't enjoy this part of France if you're not "independent", as the villages and fields are far from each other. It will also be easier for you to plan your visits if you have your own car.
I will never forget this trip! It was filled with so many incredible moments! Being with two of my dearest friends was of course a super bonus! I checked off the lavender fields from my bucket list, and I'm not disappointed! The experience was amazing! So amazing that we've already decided to go back next year, and hopefully stay a bit longer!
xx Nathalie