Between March and May, the City of Love bursts into a blooming dream! Spending spring in Paris is an experience you will not forget! You will find blossoming trees everywhere, and of different varieties. The whole city vibrates with new-found excitement. The longer and sunnier daytime will allow you to enjoy all the blooming beauties Paris has to offer. Here I listed for you the best spots, and the best time to check them out!
Chapters
Looking for a place to stay in Paris? Find your hotel here.
Good to know
Best time to visit
Paris is blessed with plenty of different types of blooms. From Plum trees to Roses, Magnolias to Cherry blossoms and Wisterias, you will always find beautiful flowers to admire around the city, starting at the end of February and up to mid-June.
However, keep in mind the city truly starts wearing its spring coat from April, when the trees begin greening. Before then, you will only have some blooms, while the rest of the trees will be bare.
Weather during Spring in Paris
It is very hard to predict the weather during Spring in Paris. Some years it can be sunny and warm, up to 20°C in April (68°F), but other years may be gray, rainy, windy and cold with temperatures between 0°C and 10°C (32°F and 50°F). In 2022, there was even snow mid-April!
In general, March is still quite chill and remains mostly gray, so don't expect temperatures above 13°C in the afternoon (55°F). April gets sunnier and the temperatures warmer, around 16°C (60°F). May is when the weather gets truly nice: a lot of sun usually, with temperatures around 19°C (66°F), but it often goes up to 23°C (73°F). While June is one of the best months in terms of weather: it's sunny and warm, up to 29°C (84°F) some years, with the sun setting after 10PM, and everyone is enjoying the Parisian life and partying outside.
The best thing to do is to check a weather app a few days before your trip, in order to know what to pack. Most Parisians, myself included, wear layers during spring in Paris. So we can adapt ourselves depending on the weather throughout the day. Because yes, weather can also completely change in one day! So always keep an umbrella and a pair of sunglasses with you! Weather can truly be that hard to predict, so don't forget to check the weather app during your trip, to know what to wear.
Blooming calendar
To make planning easier, I created this table summarizing the best time and places to see the different blooms during spring in Paris.
| When? | Type of blooms | Best places to see them |
| --- | --- | --- |
| End of February/Beginning of March | Plum Trees | Eiffel Tower at Champs de Mars |
| Second half of March | Magnolia | Jardin du Palais Royal, Eiffel Tower, Tuileries |
| End of March | White Blooms | Jardin des Plantes |
| First half of April | Cherry Blossom Trees | Eiffel Tower at Trocadéro, Notre-Dame, Parc de Sceaux |
| Second half of April | Wisteria | Grande Mosquée de Paris, Au Vieux Paris d'Arcole |
| End of April | Chestnut Trees | Place Dauphine |
| First half of May | Empress Trees | Around the Eiffel Tower |
| End of May/Beginning of June | Roses | Eiffel Tower at Champs de Mars |
The rest of this article will give you all the details you need for the best blooming trip during spring in Paris!
Plum trees, the blooms before Spring in Paris
The first blooms you can find during spring in Paris are two types of Plum trees: Cherry plums and Blireana plums. These lovely pink flowers come to life at the end of February/beginning of March, before the official beginning of spring!
Blireana plums are sometimes mistaken for cherry blossom trees, but their flowers are smaller. It doesn't take away any of their beauty, and they symbolize the return of spring, which makes them very dear to my heart!
You can find these plums all around Paris, and I listed below the best places to see them!
Eiffel Tower, Voie George Pompidou
These delicate Cherry plums create a beautiful framing around the Eiffel Tower, from the other side of the river. As they are located along a street, they are easily accessible. I would advise walking along voie George Pompidou/Avenue de New-York after a visit to Trocadéro, towards Passerelle Debilly, and you'll be sure you won't miss them!
Eiffel Tower, Champs de Mars
One of the most magical trees during spring in Paris is the majestic Blireana plum tree right under the Eiffel Tower on Champs de Mars. You will actually find a lot of these blooms around the park, but this particular tree captures the tower between its blooms!
Chambre Syndicale, Rue du Louvre
A very Parisian spot to capture spring in March is in front of the Chambre Syndicale building, at the angle between rue du Louvre and rue d'Argout. This beautiful structure dates back to 1864, and a glorious Blireana plum tree adorns it.
To get there, you need to get off at Sentier, métro line 3, and walk 3 min.
Parc André Citroën – Martin Luther King
Not very well known and far from the radar, this park is a hidden gem in Paris! The surroundings are modern, which is why only a few people know about it! Whether or not contemporary buildings are your thing, the park is truly enchanting, and quite a unique spot to admire the cherry blossoms in Paris!
The access to this garden is free, and is open from 8AM to 7PM in March.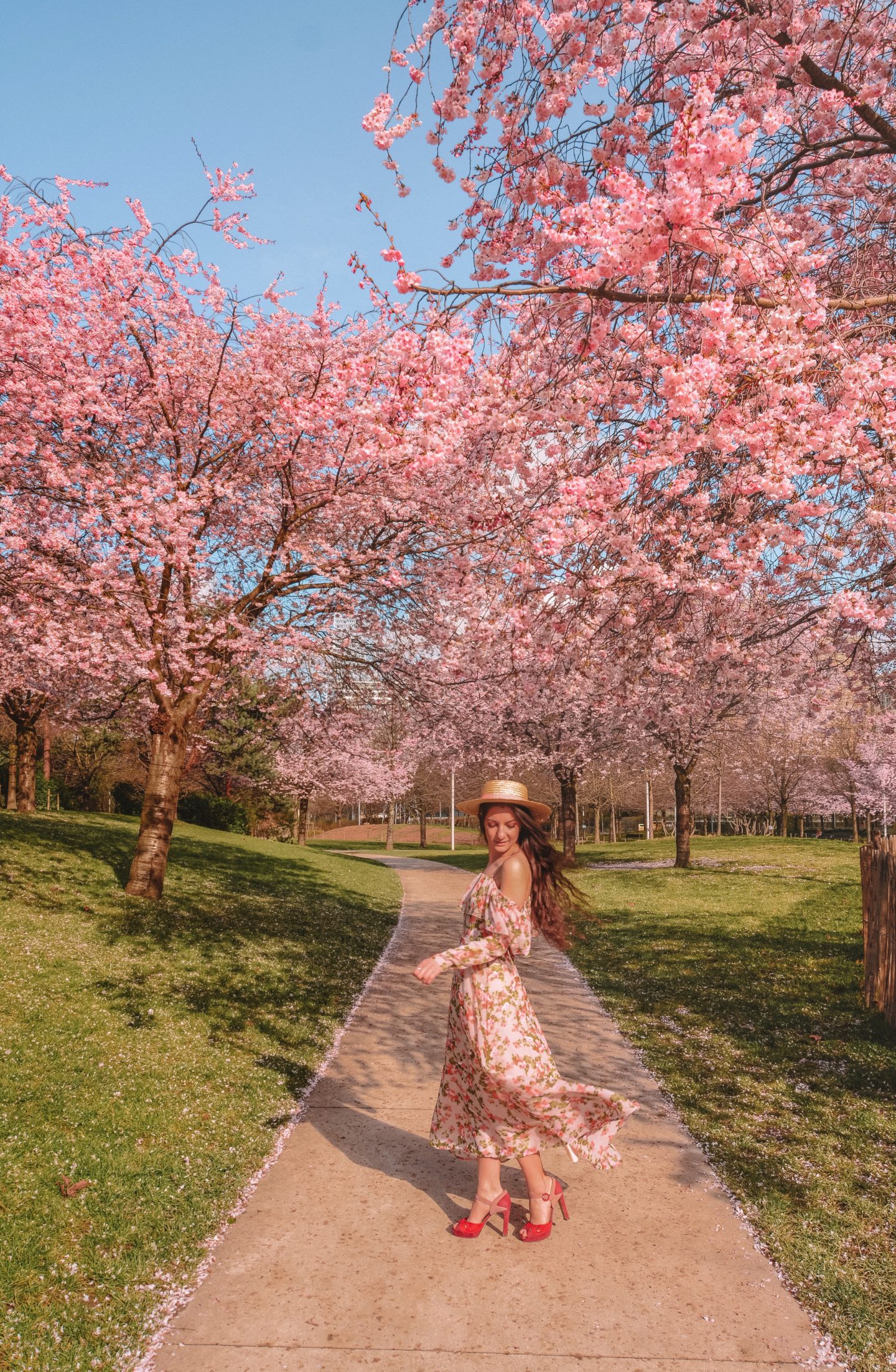 Magnolias, the first blooms of Spring in Paris
The second trees to bloom during spring in Paris are Magnolia trees. They blossom during the second half of March and last for two weeks. However, if winter is relatively warm, the trees may bloom even earlier, at the beginning of March!
You can find the most gorgeous Magnolia trees in the center of the city, and I listed them all here, with all the information you need to see them.
Jardin du Palais Royal
In the heart of Paris, a few steps away from the Louvre Museum is the sumptuous Jardin du Palais Royal. The garden is hidden in the middle of Palais Royal, a former royal palace built for Cardinal Richelieu in the 1630s, which now serves as the seat of several governmental and cultural buildings.
There, you will find the most impressive Magnolia trees of Paris. Four spots surrounded by four blooming trees each and daffodils allow visitors to sit and admire the stunning architecture and flowers. This place remains a favorite amongst locals, and you'll often find Parisians enjoying their lunch break here.
It's also where you can find the famous Colonnes de Buren, the black and white columns that you can see everywhere on social media.
The garden is free to access and open from 8AM until 8.30PM in March. The closest métro stations are Palais Royal-Musée du Louvre on lines 1 and 7, and Pyramides on line 14.
Please Note: If you plan to take pictures early morning with a professional camera, be aware the watchmen might ask you the purpose of your photoshoot. Know that as long as your pictures are not for commercial purposes, you are allowed to take them. However, some watchmen can be quite annoying and will try to find excuses to prevent you from taking your pictures. Stay polite but firm, you are in your right.
Jardin des Tuileries
Right next to the Louvre Museum, you will find the enchanting Jardin des Tuileries. Created by Catherine de' Medici as the garden of the Tuileries Palace in 1564, it was opened to the public in 1667 and became a public park after the French Revolution. A lot of Parisians like to go for a stroll there or for their lunch break.
The garden displays various blooming trees and flowers throughout spring, notably some gorgeous Magnolia trees, with the Louvre in the background!
The garden is free to access from 7.30AM until 7.30PM, and is located on stations Tuileries and Concorde, métro line 1.
Hôtel de Ville
The town hall of Paris has a little garden on its side called Jardin des Combattants-de-la-Nueve, which is only open to the public on weekends and bank holidays, from 9AM.
Here, you will find two gorgeous magnolia trees framing the statue of Etienne Marcel, who is considered to be the first mayor in the history of Paris. To admire these blooming trees during spring, you don't necessarily need to visit the garden, just walk along the longing street and you'll have the best view on the flowers and the building!
The garden and the street are free to access, and the nearest métro station is Hôtel de Ville, on lines 1 and 11.
Eiffel Tower, Champs de Mars
There is also one Magnolia tree right next to the Eiffel Tower, on the left-end side of Champs de Mars. So if you walk by, go check it out, it's a sight to behold!
Champs de Mars is free to access 24/7, and the nearest métro station is Bir-Hakeim on line 6, located 9 min away on foot.
White Blooms around Paris
You can also find gorgeous white blooms around Paris, blossoming at the end of March/beginning of April! These are white cherry blossom trees and Bradford Pears, and they truly offer an ethereal vibe to Paris!
Here is a list of the best places to see the white blooms during spring in Paris.
Jardin des Plantes
Jardin des Tuileries
Odette, rue Saint-Julien le Pauvre
Saint-Eustache Church, Châtelet
Square Jean XXIII, Notre-Dame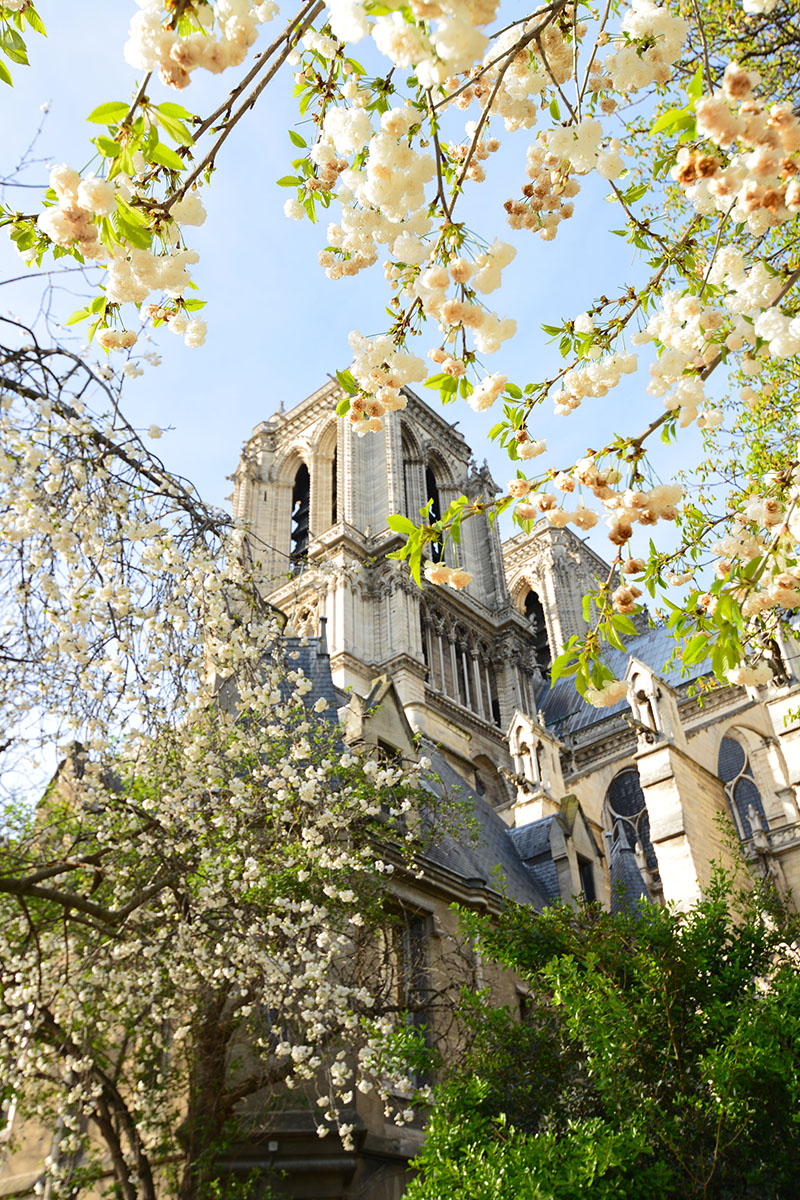 Pink Cherry Blossom Trees, the most famous blooms of Spring
During spring, beautiful cherry blossom trees come to life all over Paris! They usually bloom during the first half of April and last for two weeks. These gorgeous blooms are the Queen of Spring in Paris, and I dedicated a complete guide to these Parisian cherry blossoms.
Here is a list of the best places to see the cherry blossom trees during spring in Paris.
Eiffel Tower, Jardins du Trocadéro
Notre-Dame de Paris, Square Jean-XXIII
Institut de France, Square Gabriel Pierné
Shakespeare and Company
Jardin des Plantes
Métro Falguière, Place Camille Claudel
Petit Palais
Parc de Sceaux
For more information, check out my blogpost about the cherry blossoms in Paris.
Trocadéro is the most famous spot for pictures of the Eiffel Tower with cherry blossom trees. The gardens offer two parallel alleys adorned with benches under the blooms, a true romantic lover dream.
My personal favorite spring spot in Paris is located at Notre-Dame! Here you will find four majestic trees whose branches intertwine to create a flower sky above your head! The gardens are currently closed to the public following Notre-Dame's April 2019 fire. Fortunately, the trees survived, and we will hopefully enjoy them again in 2024, once the renovation work has progressed enough.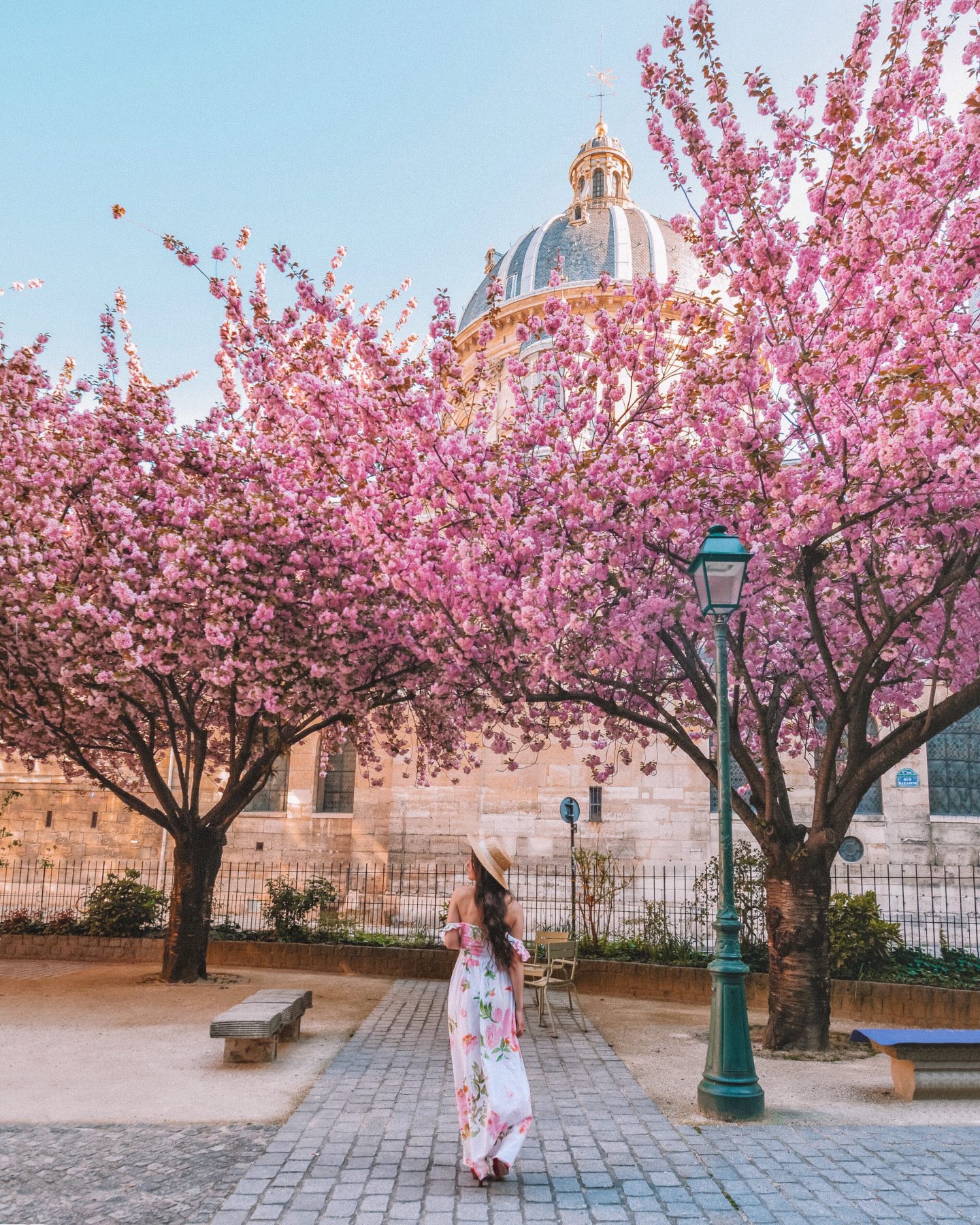 This little heaven on the left is located behind the Institut de France (the building featured below), at square Gabriel Pierné!
Facing Notre-Dame, this adorable (and most famous) English library on the right is blessed with a few cherry blossom trees in front of it! They also sport a café, so you'll be able to enjoy the sight even more with a cup in hand!
During spring, the Jardin des Plantes is the most magical place! It has so many different trees and flowers blooming that each month will bring some new aspect to discover and enjoy! The biggest cherry blossom tree of the city is also located here!
A little bonus here, Parc de Sceaux outside Paris. Located in the city of Sceaux, in the close suburbs of Paris, the park has two cherry blossom trees areas. One with pink trees and one with white trees! These trees bloom later than the ones in Paris: after mid-April! It's the perfect picnic place, and probably the most romantic too! Why? The park is part of an estate with a castle!
Wisteria, the purple blooms
From Mid-April and for two weeks, some beautiful Wisteria flowers bloom around Paris. Wisteria is a long-lived vining plant with cascades of blue to purple flowers that form in clusters, almost like bunches of grapes.
You will be able to find them in all these spots listed below!
La grande mosquée de Paris
Located in the 5th arrondissement near Jardin des Plantes, the Great Mosque is the most gorgeous place in Paris to see Wisteria flowers in springtime. If the exterior of the Great Mosque of Paris is intended to be rather discreet, the luscious outdoor garden it shelters is a true wonder. This refreshing green corner was inspired by the most beautiful Andalusian gardens.
In the second half of April, the blooming Wisterias all around the patio make you feel like you are in one of Scheherazade's tales from One Thousand and One Nights. The majestic fountains, the intricate tiles and the 5 palm trees, symbolizing the 5 pillars of Islam, will offer you an enchanting break out of time.
Take your time to visit the rest of this Moorish style mosque. You will find a prayer room, a library, a hammam for women, a traditional shop as well as a traditional restaurant. And don't forget to stop at the tearoom, where you can taste oriental sweets while drinking the best mint tea of Paris.
The place will transport you to Maghreb, as the architecture is inspired by Morocco's Al-Qarawiyyin mosque, while the 33-meter minaret is a tribute to the Zitouna mosque in Tunisia.
The mosque is open to visitors every day, except on Fridays and Muslim holidays, from 9AM to 6PM. The entrance fee is 3€. The nearest métro station is Place Monge on line 7.
As it is an active religious site, please be respectful and wear modest clothes.
Eiffel Tower, Port Debilly
One of the most scenic Parisian Wisteria spots during spring is located along the banks of the River Seine, on Port Debilly. With the Eiffel Tower in the background and a weeping willow next to the flowers, this small corner is a photographer's dream! It's also the first spot where Wisterias bloom!
You can access Port Debilly 24/7 by foot and the nearest métro station is Passy, on line 6.
Please note: these Wisterias are next to inhabited barges, and the owners often park their cars in front of the blooms. So please be mindful and respectful.
Au vieux Paris d'Arcole, rue de Chanoinesse
Next to Notre-Dame cathedral, you will find this charming French restaurant and café nested at 24 rue Chanoinesse. Au Vieux Paris d'Arcole is as old as its name suggests! Built in 1512, the building was once home to the canon (cleric) of the nearby cathedral. In 1723, a private citizen purchased it and turned it into a wine bar!
In April, the majestic 7 meters tall and 22 meters long Wisteria on its facade matches the adorable purple outdoor furniture, making this place one of the best spots for chasing Wisteria blooms in Paris in springtime.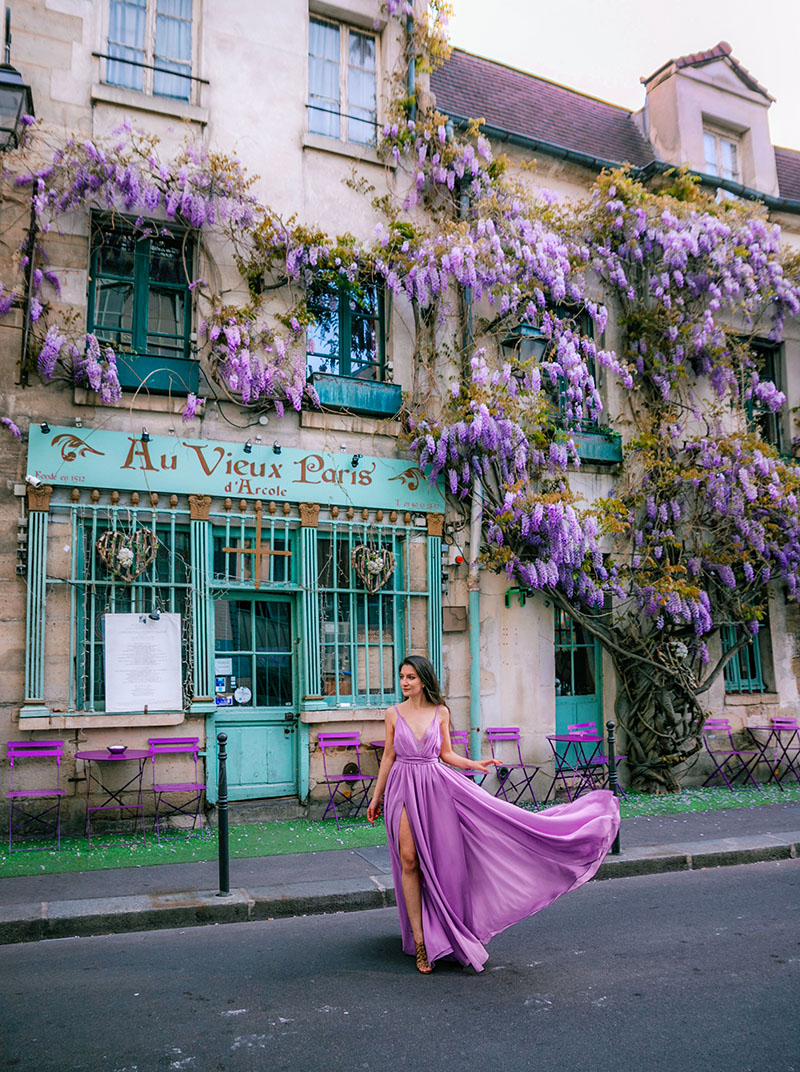 Montmartre
A lesser known place to admire the Sacré-Coeur is Square Marcel Bleustein-Blanche. Located on rue de la Bonne, this green space used to house one of Montmartre's windmills. Now, it is a peaceful garden, perfect for a romantic stroll during spring in Paris.
Indeed, come springtime, the white and purple Wisterias bloom in the square and give the Sacré-Coeur a stunning floral frame.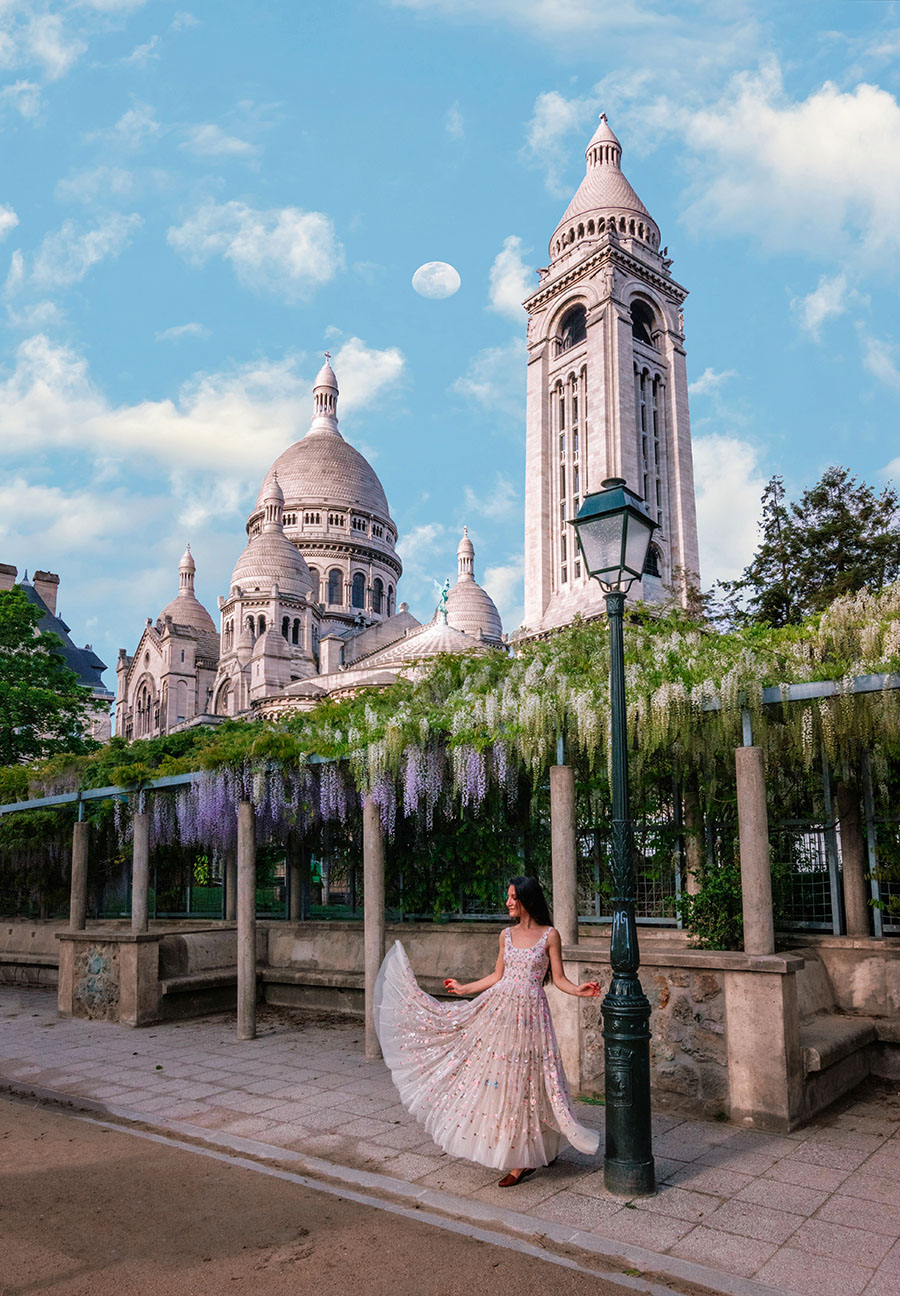 Maison Européenne de la Photographie
This typical Parisian corner in the Marais area of the capital, is home to the Maison Européenne de la Photographie, a center for contemporary photographic art.
The beautiful Wisterias blooming along the outdoor fence are located on rue de Fourcy, next to métro Saint-Paul on line 1.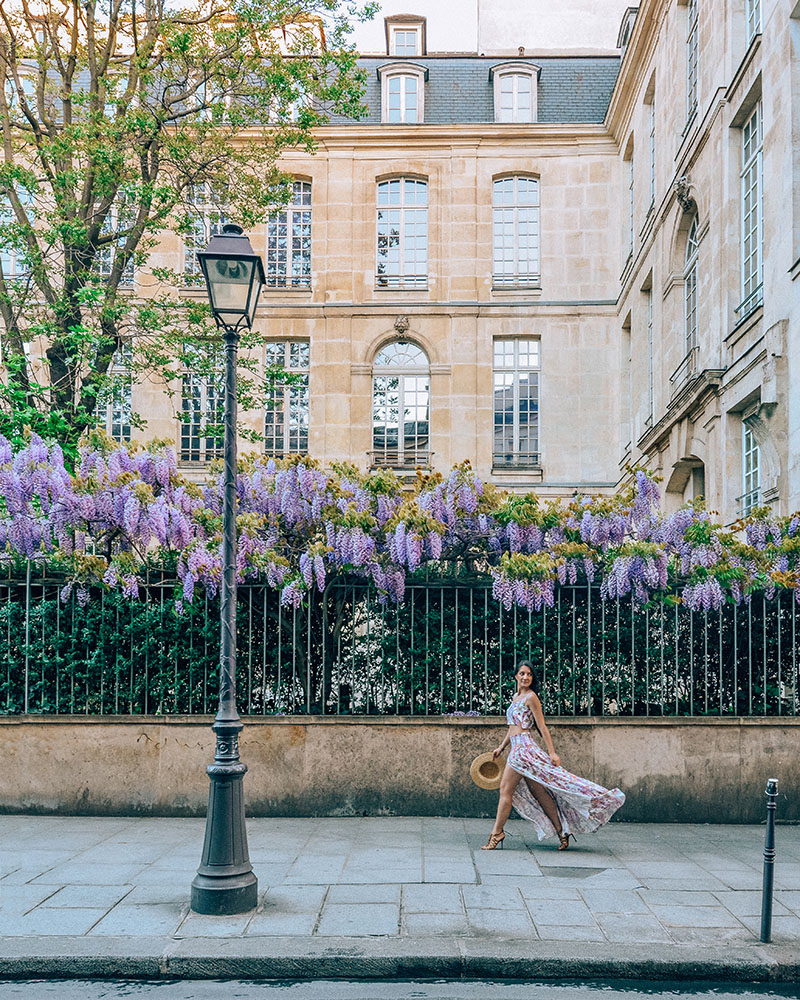 Roses, the last blooms of Spring in Paris
Roses are known as the most romantic of flowers…so imagine admiring them in the City of Love! Yes, you can find beautiful rose bushes in springtime in Paris! They usually bloom during the second half of May and stay until the beginning of June!
Here is a list of the best places to see roses during spring in Paris.
Eiffel Tower, Champs de Mars
Eiffel Tower, Ecole Militaire
Sacré-Coeur, Montmartre
Jardin des Plantes
Jardin du Palais-Royal
Roseraie du Parc de Bagatelle, Bois de Boulogne
Roseraie du Val de Marne, L'Haÿ-les-Roses
Other notable blooms during Spring in Paris
During spring, you can also find some lesser known but nonetheless gorgeous blooms around the city.
Mid to late-April, the purple-flowered spears of Judas trees come to life in Jardin des Tuileries and frame the Louvre in the distance. Around the same time, the chestnut trees filling the square of Place Dauphine are also in full bloom.
And last but not least, you can also find the stunning Paulownia trees, also called Princess or Empress trees, with their foxglove lookalike purple flowers. These trees bloom during the first two weeks of May and can be admired around the Eiffel Tower and at Trocadéro.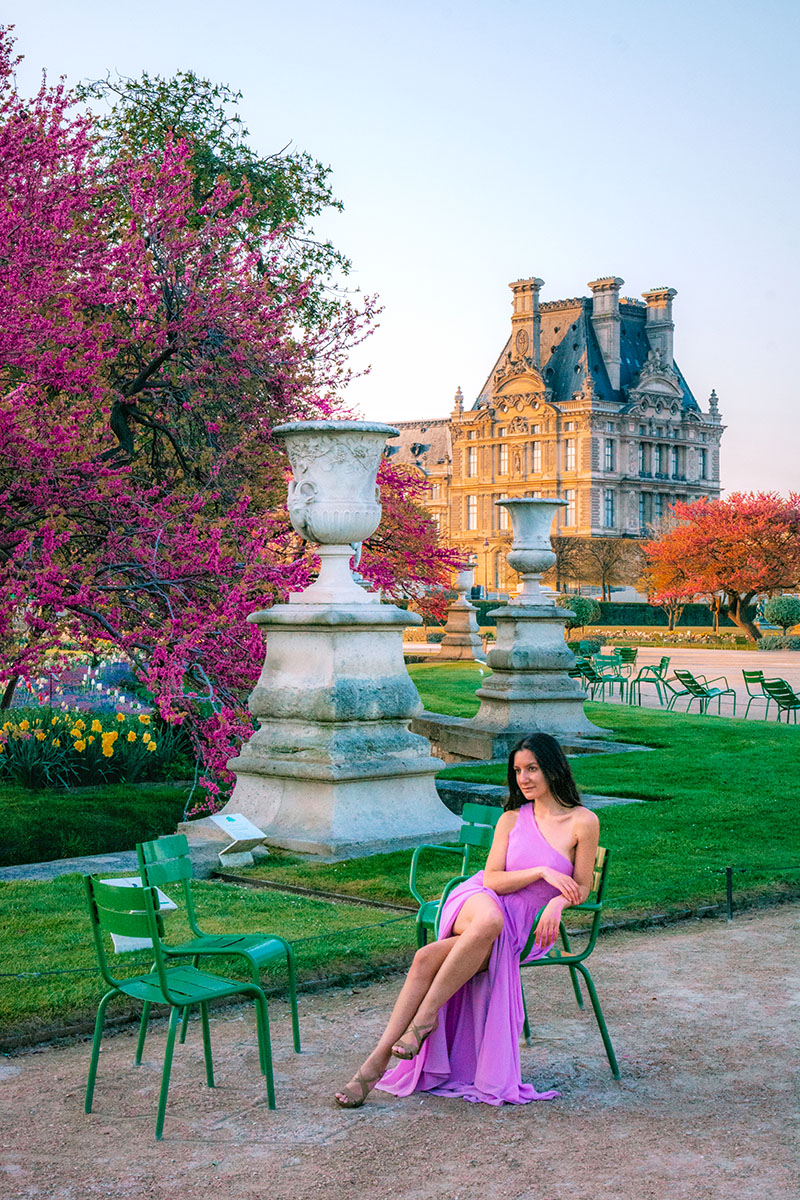 To conclude on Spring in Paris
Paris is a great place to enjoy spring. Gorgeous blooms can easily be found all around the city throughout springtime. And the majority of them are easily accessible by metro and located in the center of Paris.
The lovely weather you can experience from April also makes Paris one of the best destinations during spring. It's definitely my favorite time to enjoy the City of Love.
Want to say thanks for these recommendations or follow my adventures? Then I'd love if you could follow me on Instagram.
Xx Nathalie