A trip to Morocco wouldn't be complete without a stay at a riad, and we found a beautiful one in Marrakesh: Ksar Kasbah. Ksar Kasbah is a luxurious riad, located in the south part of the medina, near the mosque Moulay El Yazid and El Badii Palace.
Riads are traditional Moroccan houses which host an interior garden or courtyard in the center of it, with many rooms laid out around this center and often a terrace on the roof.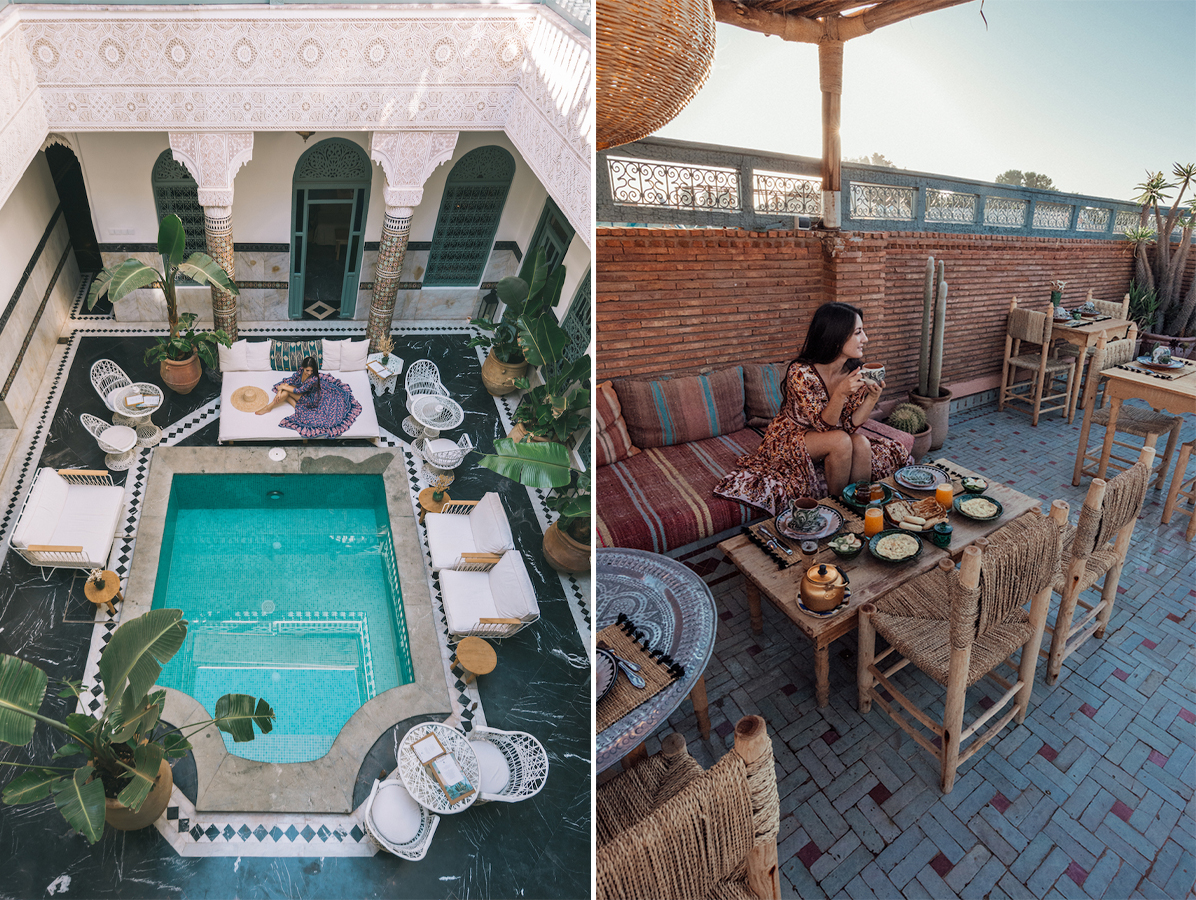 On the outside, you find yourself in front of a small hidden door. However, once you open the door you discover that it's a magical gateway to a piece of heaven among the hustle and bustle of the medina.
Upon arrival, we were greeted by a most friendly staff. They offered us mint tea and some Moroccan pastries to enjoy by the pool.
The turquoise pool is in the heart of the courtyard garden. Covered in pretty mosaic tile columns, luscious green foliage and ornate furniture, the courtyard is a little eden! This riad has a total of eleven rooms built around this cute pool, all furnished in pure bohemian style (price range: from 100€ to 150€).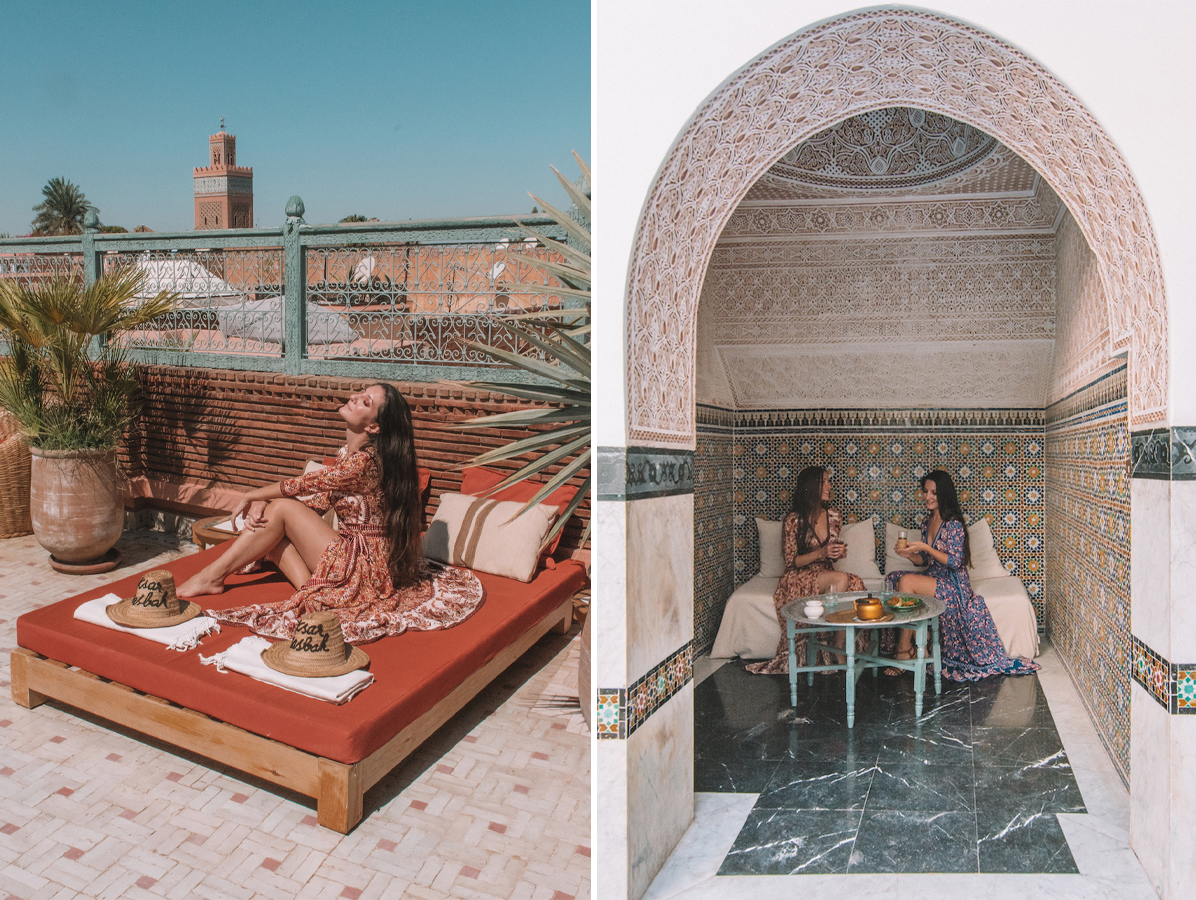 I also loved the rooftop! It was super huge and you could enjoy the sun or the warm evening hours.
The breakfast is a delight: tasty Moroccan crepes, fluffy lemon/poppy seeds, fresh fruits, eggs and dairy products. You can choose to eat on the rooftop or set yourself up beside the pool. We tried out both options and both were great!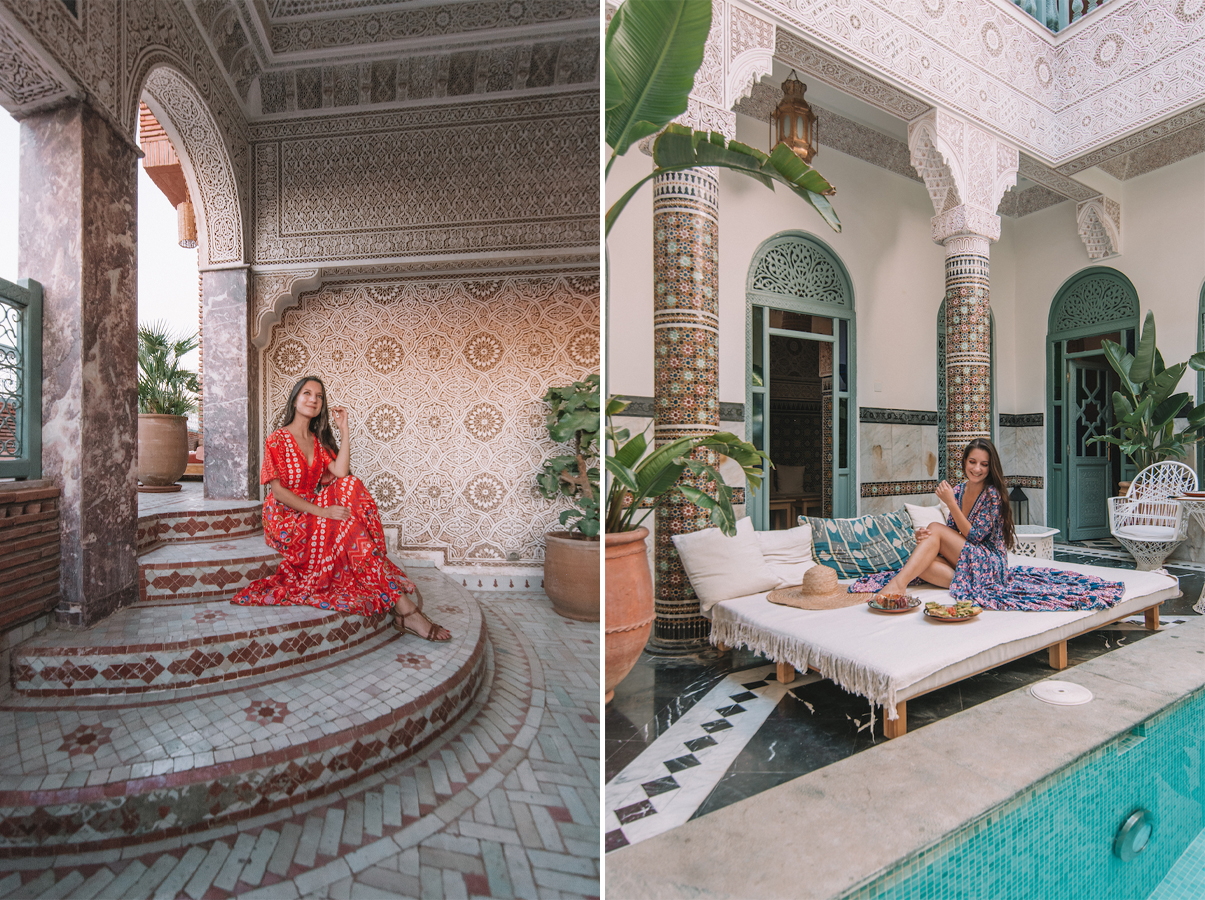 Another advantage of Ksar Kasbah is its spa, located on the rooftop. With a traditional hammam and 2 cabins for treatments and massage, the spa is open every day from 8 am to 9 pm. All the treatments are made with natural local products.
There is also a restaurant, which serves authentic Moroccan cuisine. And you can enjoy your meal on the rooftop, under the stars!
I had such a wonderful experience at Ksar Kasbah. And I can't recommend it enough when in Marrakesh! I personally know I'll come back next time I'm there! For more informations about my trip in Morocco, take a look at my week in Morocco post!
xx Nathalie