Most people go to Morocco to visit the Sahara Desert. But if you are like us and don't have the time to drive 10 hours to the Sahara, the next best option is to camp at Scarabeo Camp, in the Agafay Desert. Scarabeo Camp is a luxury camp located 45 minutes from Marrakesh. You won't get the soft sand from the Sahara, but the stone desert camp is also amazing!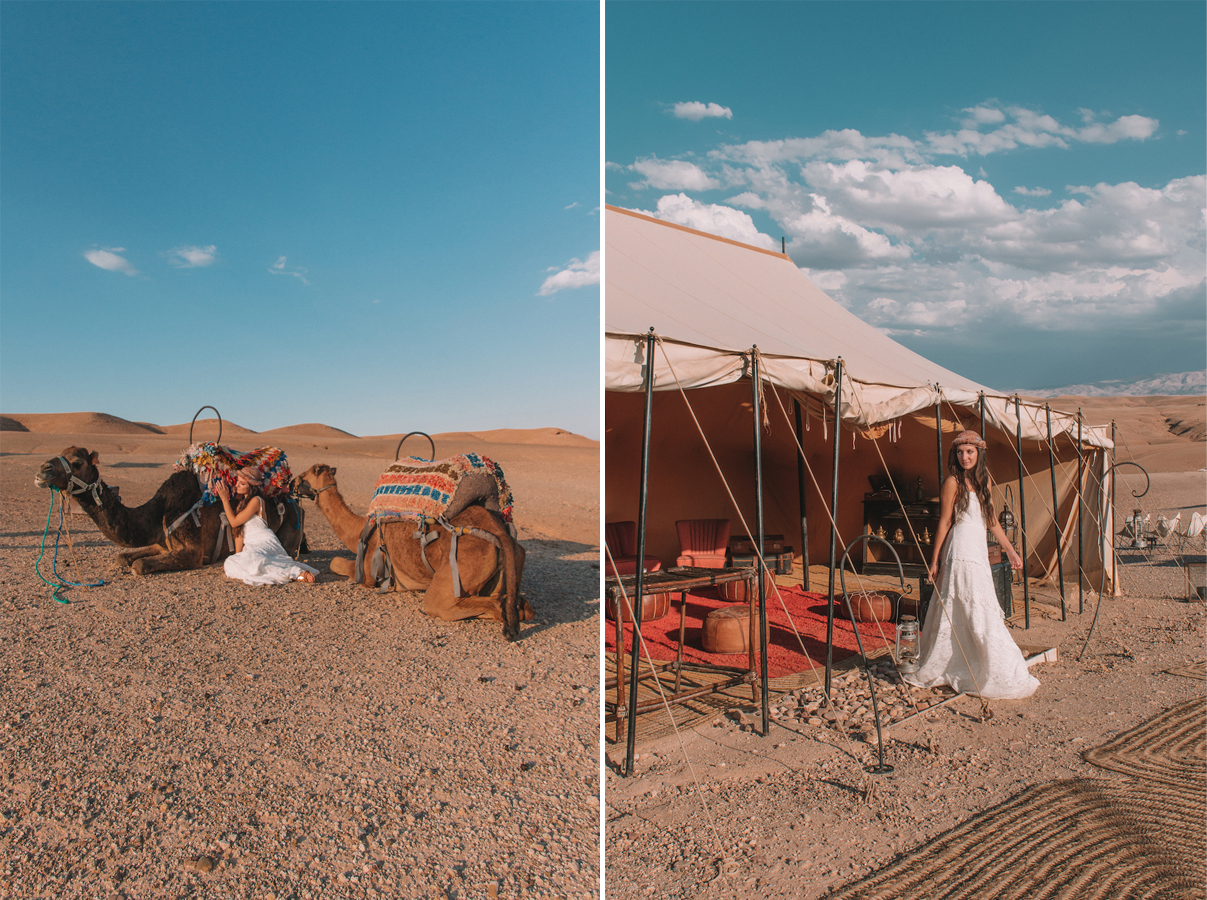 We arrived near noon and the staff greeted us with fresh Moroccan treats and mint tea. The decoration makes you feel like you've gone back in the 1940s, and you can imagine yourself surrounded by elegant aviators like in The English Patient. They have old cameras, little planes, old books, vintage luggages, globes, Moroccan lanterns and Berber rugs throughout the tents. And with the incredible view over the Atlas Mountains, Scarabeo Camp won my heart. We spent one night here, and I think we could have stayed for another night.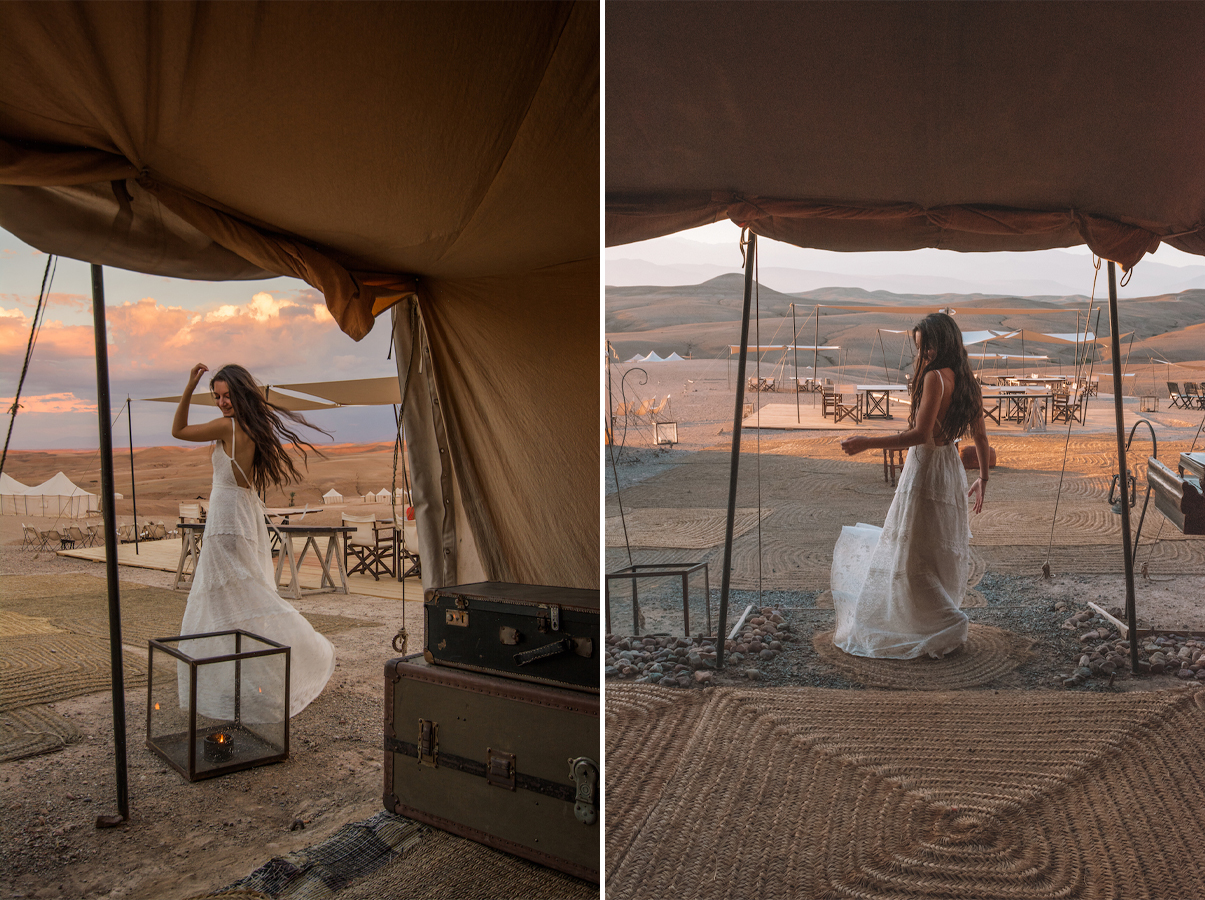 There's not much to do in terms of hiking or anything, but you can go camel riding, quad biking and more generally, just relaxing (I've listed the activities down below). Obviously, there is no internet access, so that's a way to force you to get away from it all!
INCLUDED ACTIVITIES AT THE CAMP :
OPTIONAL ACTIVITIES :
Off-the-beaten-track tour by quad or bike
Dune buggy tour with guide
Relaxing massage at the camp
Camel-back or donkey-back ride
Horse-riding (for experienced riders only)
Half- or full-day trek with a mountain guide (picnic at a picturesque spot)
Stargazing with astronomy professor
Yoga class (depending on the teacher's availability)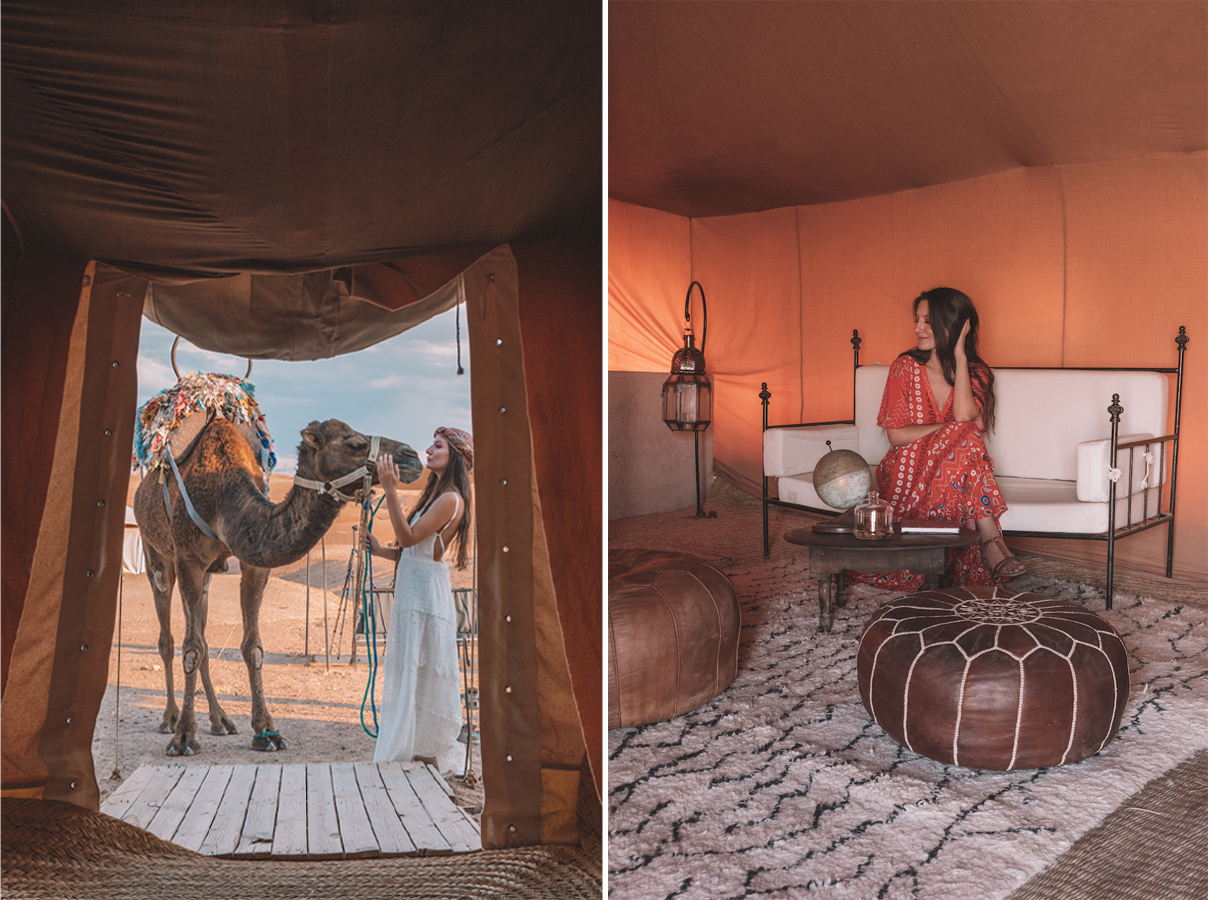 There are two room types, one is for two guests (2 755,- MAD), and the other for families (3 080,- MAD). In a two person tent, you'll find a queen size bed, mini closet, a safe with one charging port attached to it. They use solar panels to provide the camp with electricity. As for the bathroom, there is a public bathroom in the centre of the campsite, and at the side of your tent, you have your own toilet, shower, and sink. Our room also came with a couch and living area, and a couch with shelter in the front as well. It was really huge, sumptuous and luxurious!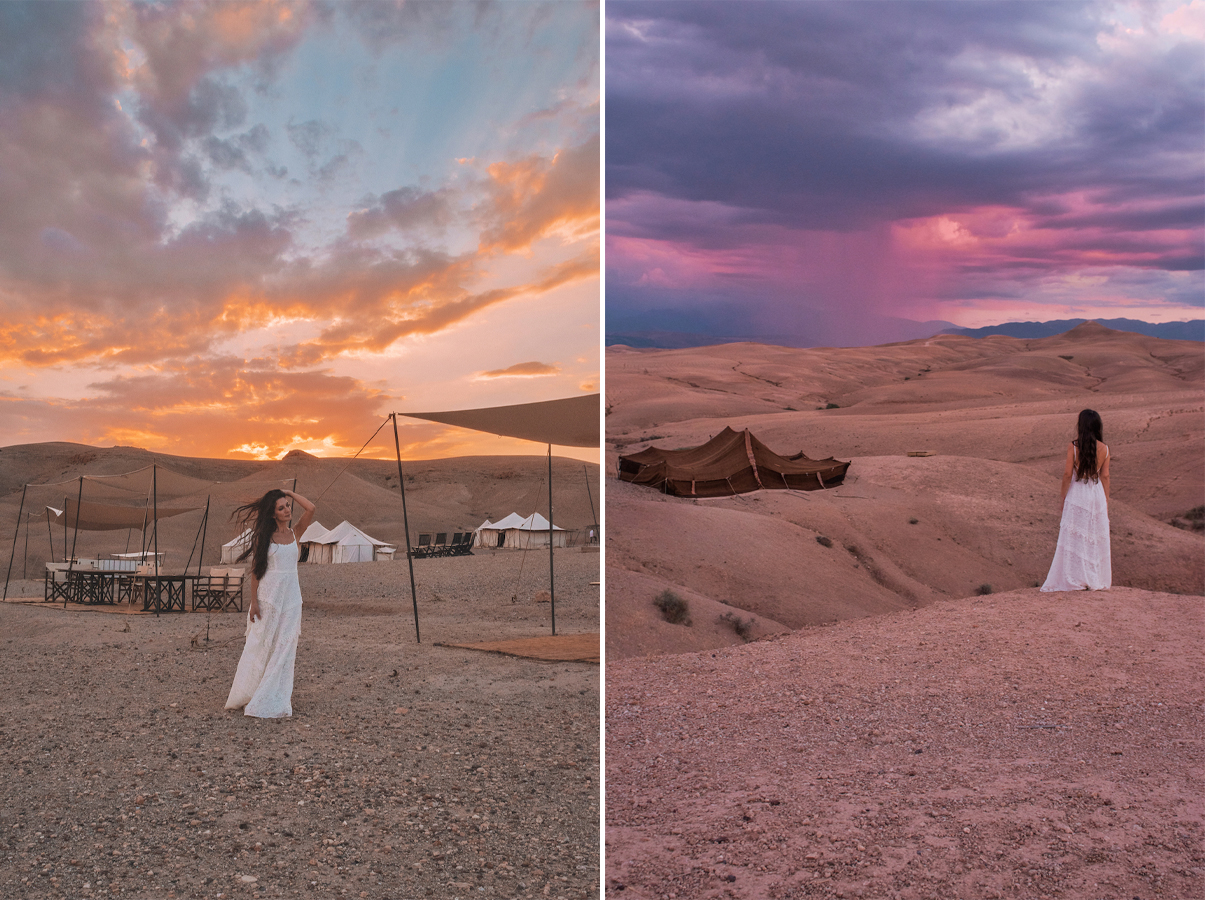 For dinner, they light up the fire at certain bonfire areas. Dinner is served in the main tent where we had a feast amongst the stars. The bonus was the live singer with his guitar! We had beef tajines, with potatoes and carrot, and semolina. Everyone gets the same meal unless you are vegan/vegetarian. There was cake for dessert as well. It was really tasty! For breakfast, various breads with honey & spreads, Moroccan pancakes, plain omelet and orange juice is served. All meals are included in the package.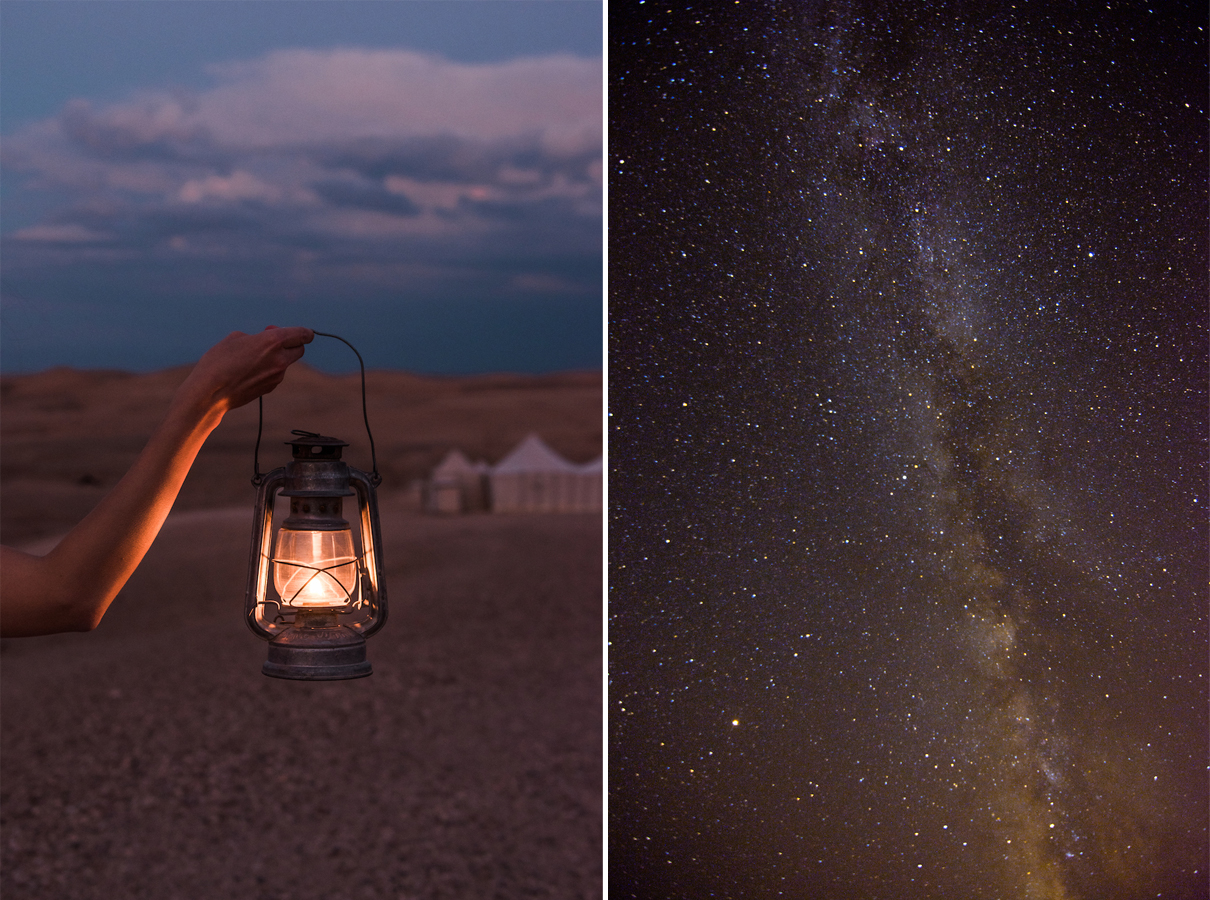 I had such a lovely experience at Scarabeo Camp and I highly recommend anyone visiting Morocco to spend a night there, especially if you can't go to the Sahara Desert! Don't forget to check my week in Morocco post, if you're looking for inspiration on what you should do!
xx Nathalie