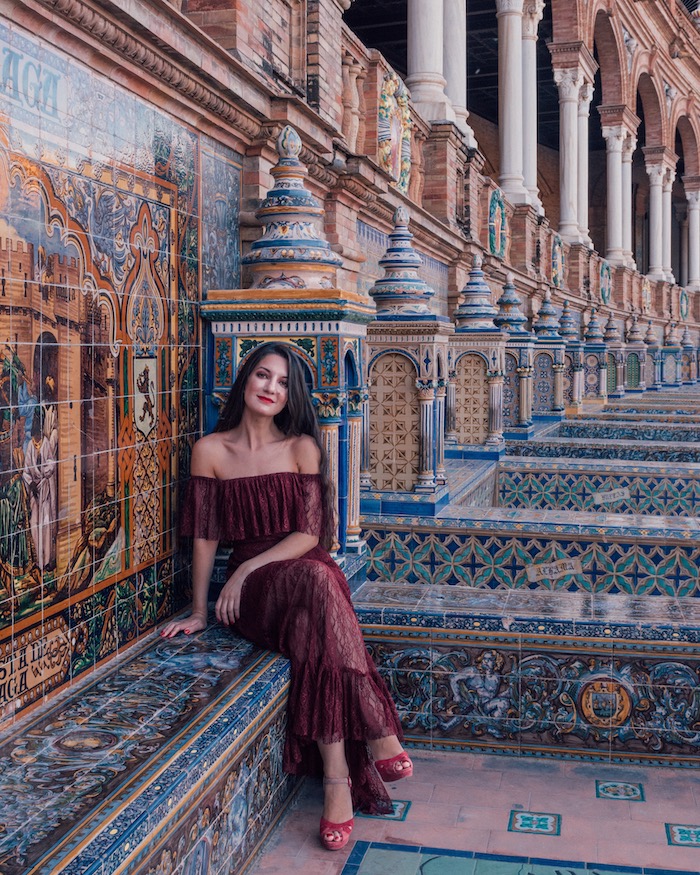 City breaks. Or how to go on holidays for two days!
This is something we can easily do while living in Europe. And it actually enables me to clear my head and to do so easily. The feeling you get after being away for two days is that you went on holidays. Sure, it's intense, but so refreshing at the same time!
One of my favorite city breaks was Seville. The city is just AMAZING!
We did most of the sightseeing on the first day and walked a grand total of 16km. On the second day, we took our time and enjoyed taking pictures with a more relaxed schedule.
Our itinerary
Day One : 9AM Real Alcazar – Brunch at Filo – 1PM Casa de Pilatos – 3 PM La Giralda and the Cathedral – 5PM Metropol Parasol – Tapas & Wine at Espacio Eslava – 10.30PM Flamenco show & drinks at La Carbonería
Day two : 8AM Plaza de España and Parque Maria Luisa – Lunch at El Rinconcillo – 2PM Visit of the General Archive of the Indies – Wandering in the city before going back to the airport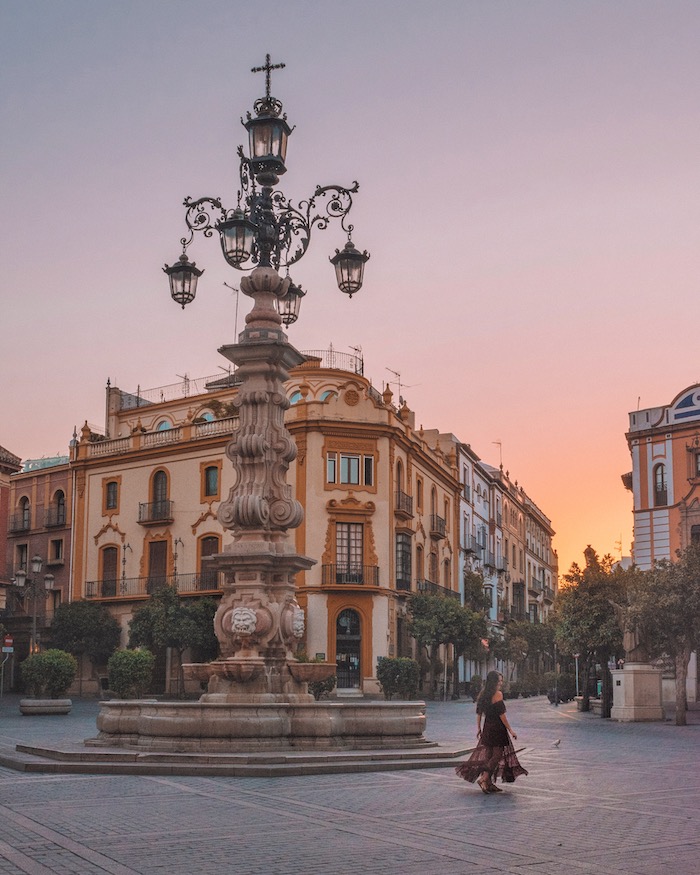 Where to stay
We stayed at: Hotel Alcantara
It's in the old town, 5 minutes away from la Giralda, and it's relatively cheap (219€ for 2 nights for 2 persons). The rooms are small but clean. We just needed a place to sleep and take a shower, and it was perfect for our small budget.
What to do
Here is the list of what you shouldn't miss while in Seville! I also recommend you to consider doing a roadtrip in Andalusia. Don't miss your chance to see the Alhambra in Granada, and to wander in Cordoba. I will definitely do it next time I go!
La Giralda & Seville Cathedrale
Entrance price: 9 €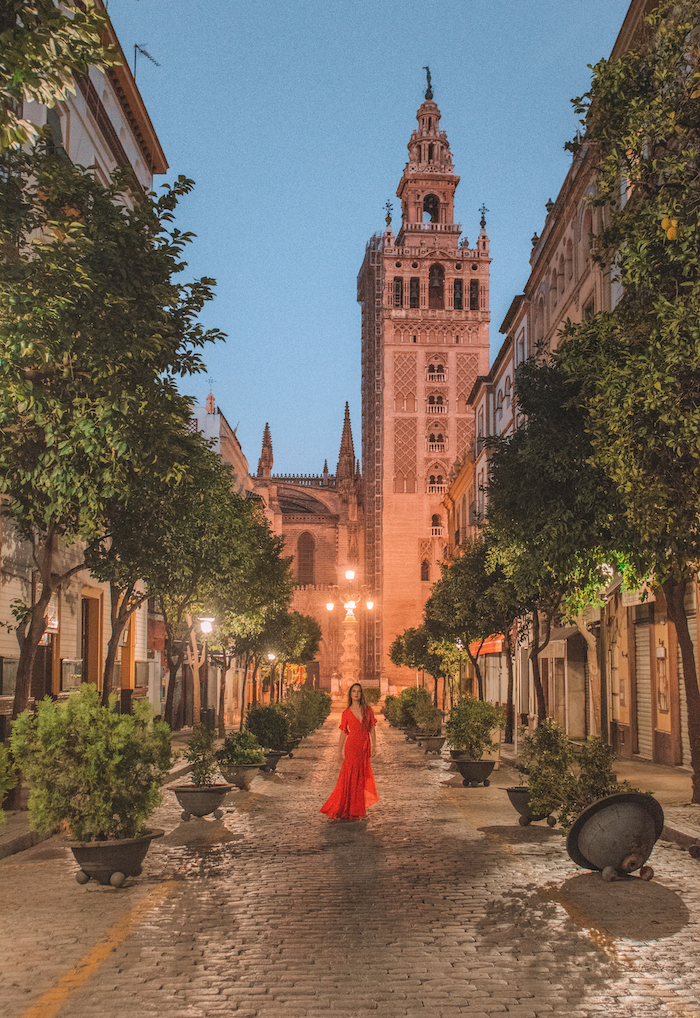 The Giralda is the bell tower of the Seville Cathedral. It was originally built as the minaret for the Great Mosque of Seville, during the Almohad dynasty's rule. The Renaissance-style top was subsequently added by the Catholics after the expulsion of the Muslims from the area. In order to be able to enjoy its surroundings, we had to wake up for sunrise. The city is asleep at that time of the day given that everyone stays up late partying. This particular street is full of bars and restaurants to enjoy during the night.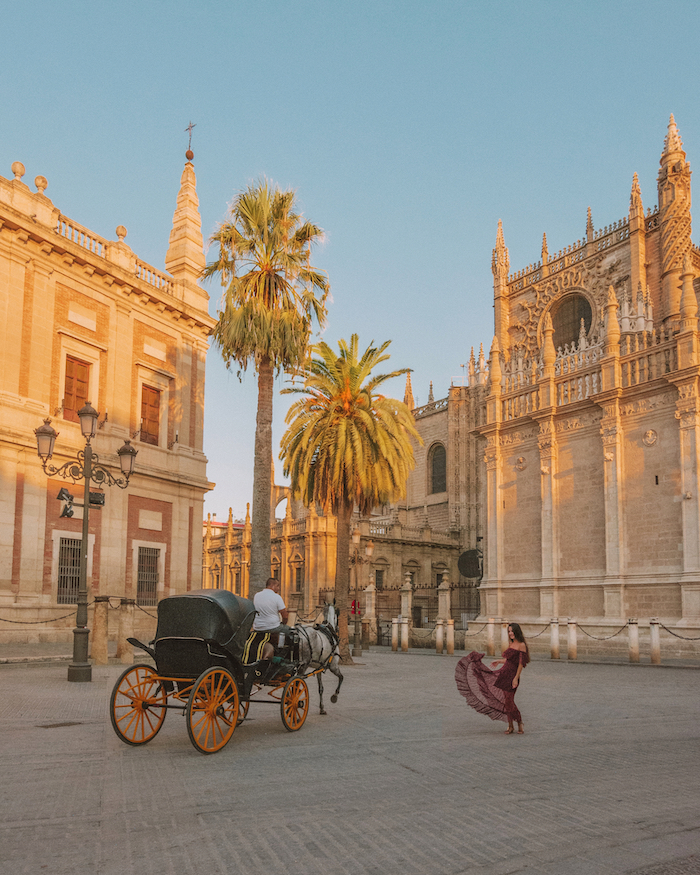 Don't miss a chance to visit the cathedral from the inside as well. It is the third-largest church in the world and the largest Gothic church! You may have seen many big churches already in your life. You might have even been to St. Peter's Basilica in Rome (which is, by the way, not a cathedral). Yet, the grand scale on the inside doesn't fail to impress any visitor. Moreover, it is the burial site of Spanish kings and queens as well as that of the famous explorer Christopher Columbus. All of this means that you really have no excuse for missing out on visiting this marvellous building.
Real Alcazar
Entrance price: 12,50 €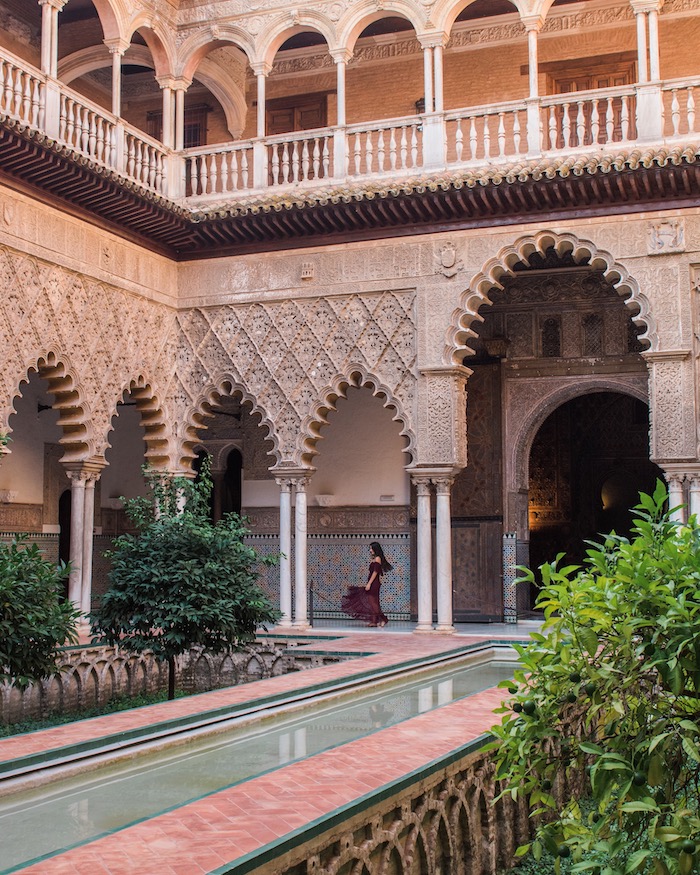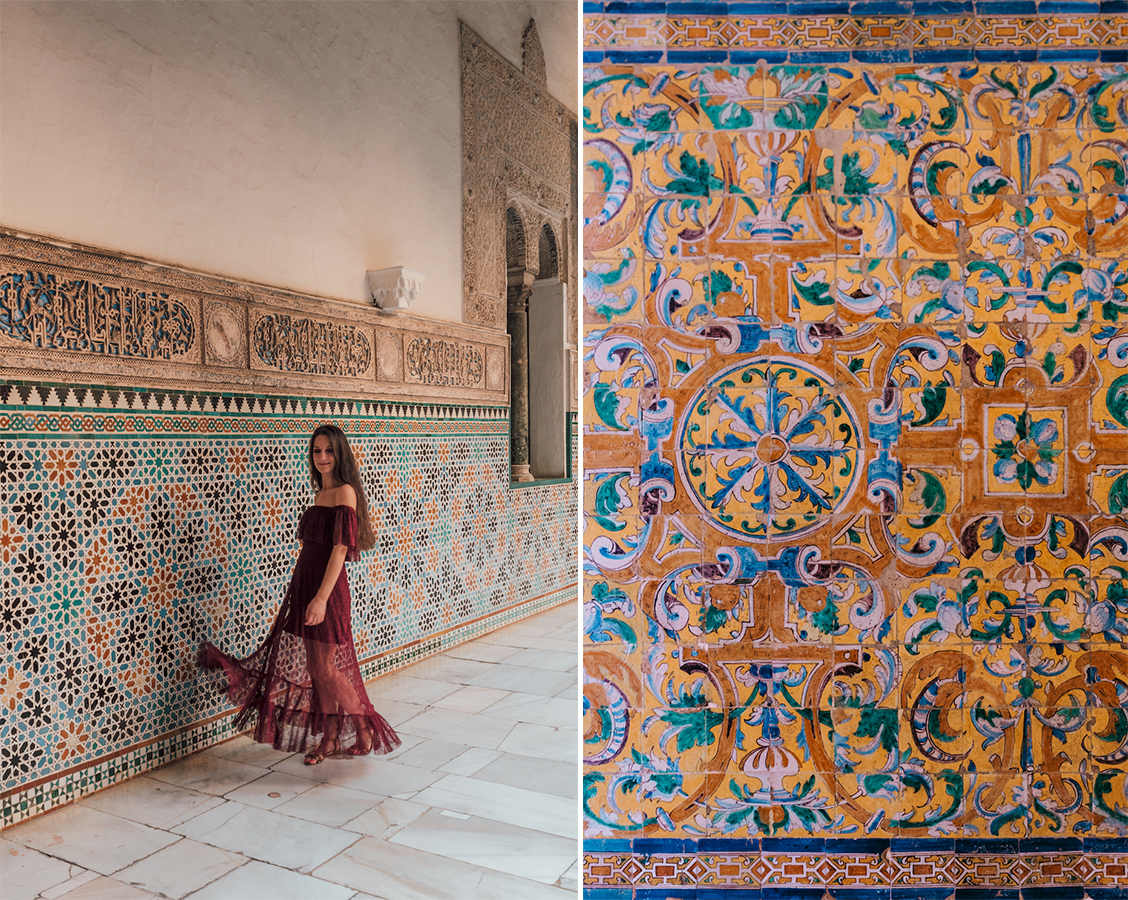 The Alcázar of Seville is a royal palace. It was built by Castilian Christians on the site of an Abbadid Muslim residential fortress destroyed after the Christian conquest of Seville. Despite all that, some elements from other civilizations remain. The palace is a preeminent example of Mudéjar architecture in the Iberian Peninsula.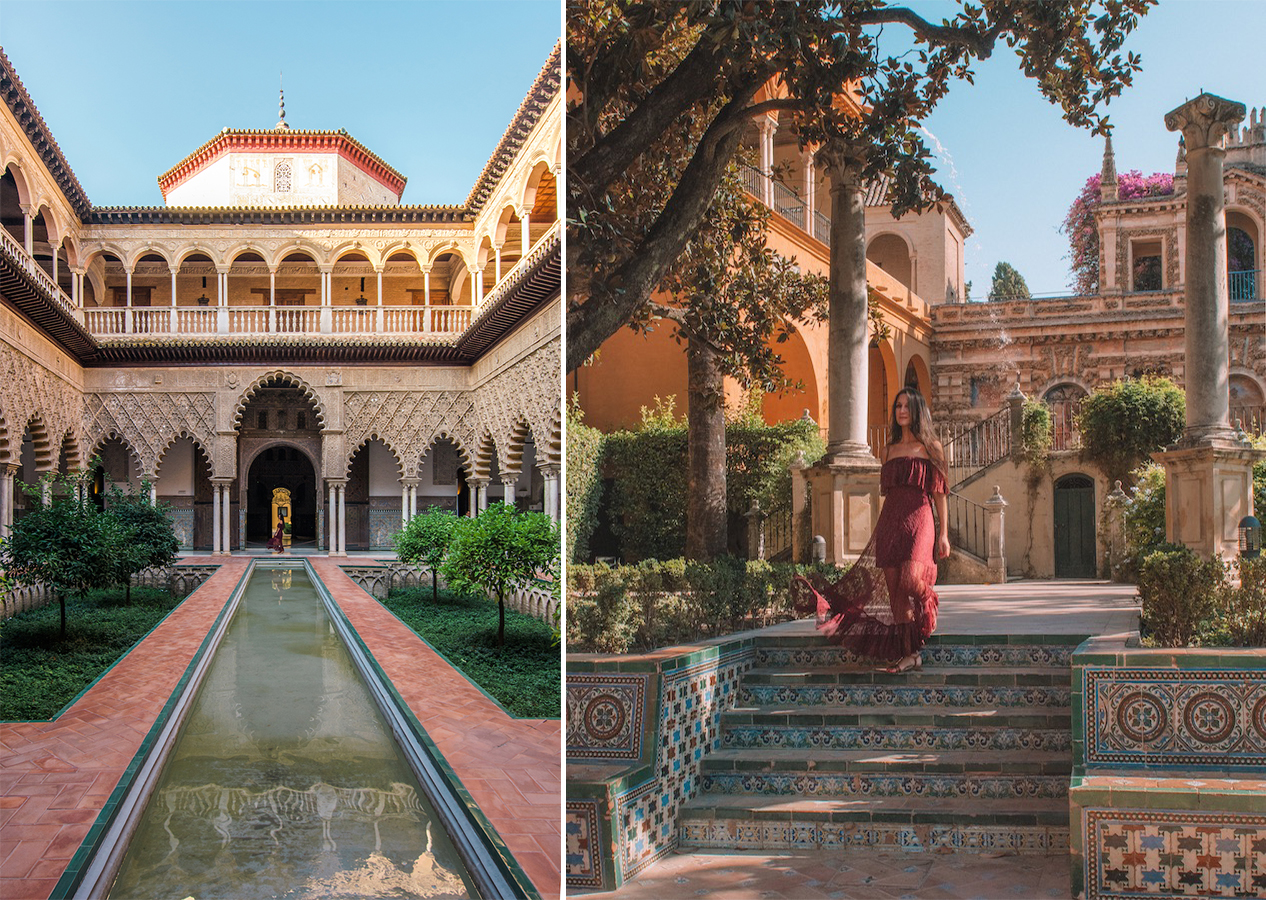 The gardens are so vast, and it's easy to get lost in them. However, you can easily find yourself a nice reroute away from the crowd. But do make sure to try and buy your ticket in advance online! We aimed to do so but decided too late and could have only gotten a ticket for the afternoon. Instead, we arrived right at opening hour: luckily, we only had to wait about 20 minutes before getting in!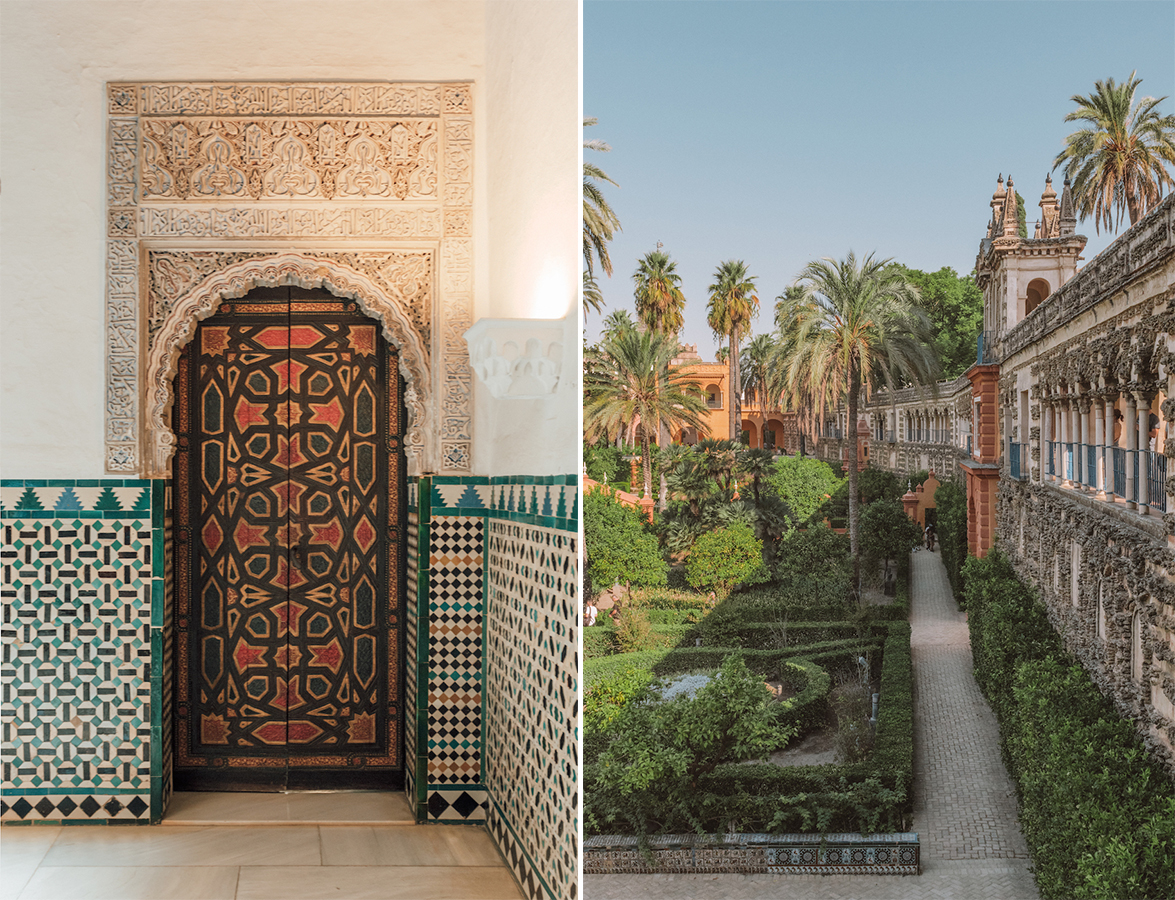 Fun fact number 1: in the fifth season of HBO's hit TV show "Game of Thrones", The Alcázar of Seville was used as shooting location for the Water Gardens, lying about 5,5km (or 3leagues) away from Sunspear, seat of House Martell and capital of Dorne, and where ruling Prince Doran Martell resides. Emphasis: The Water Gardens do not lay in Sunspear but nearby, unlike what the show precised. (My sister is a hardcore Martell fan and she will never forgive the show for what they did to the Dorne subplot, Arianne Martell will have her vengeance, justice and fire and blood – also she wrote all of this just because she could).
Casa de Pilatos
Entrance price: 12 € or 10 € (first floor only)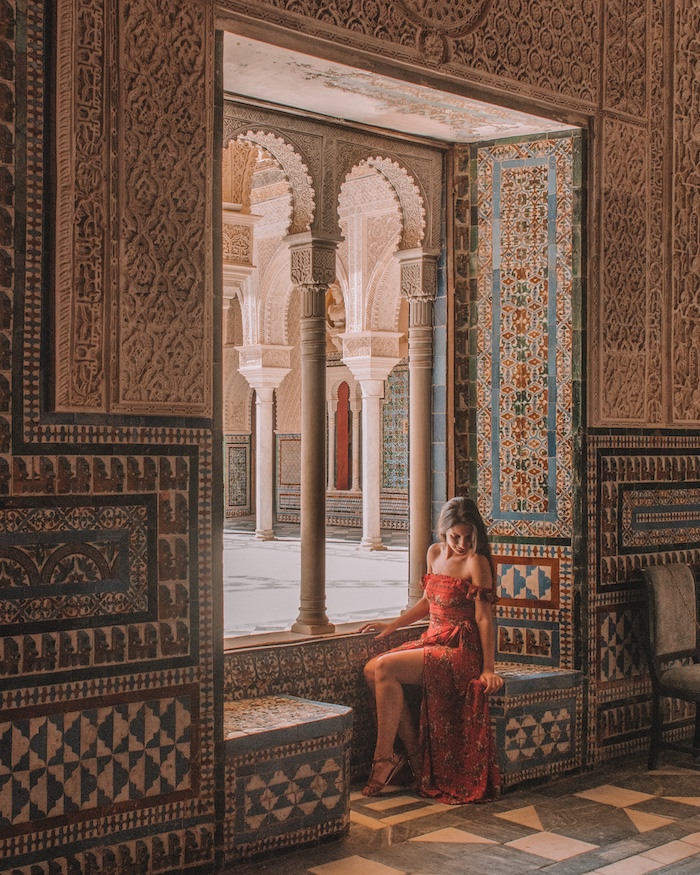 La Casa de Pilatos, is a beautiful palace in the historic Santa Cruz neighborhood, ans is a much quieter and less crowded building than the Real Alcazar. Built in the 15th century, this Andalusian palace is a mixture of Italian Renaissance and Spanish Mudéjar styles, with intricate tile work and an exquisite courtyard in the middle.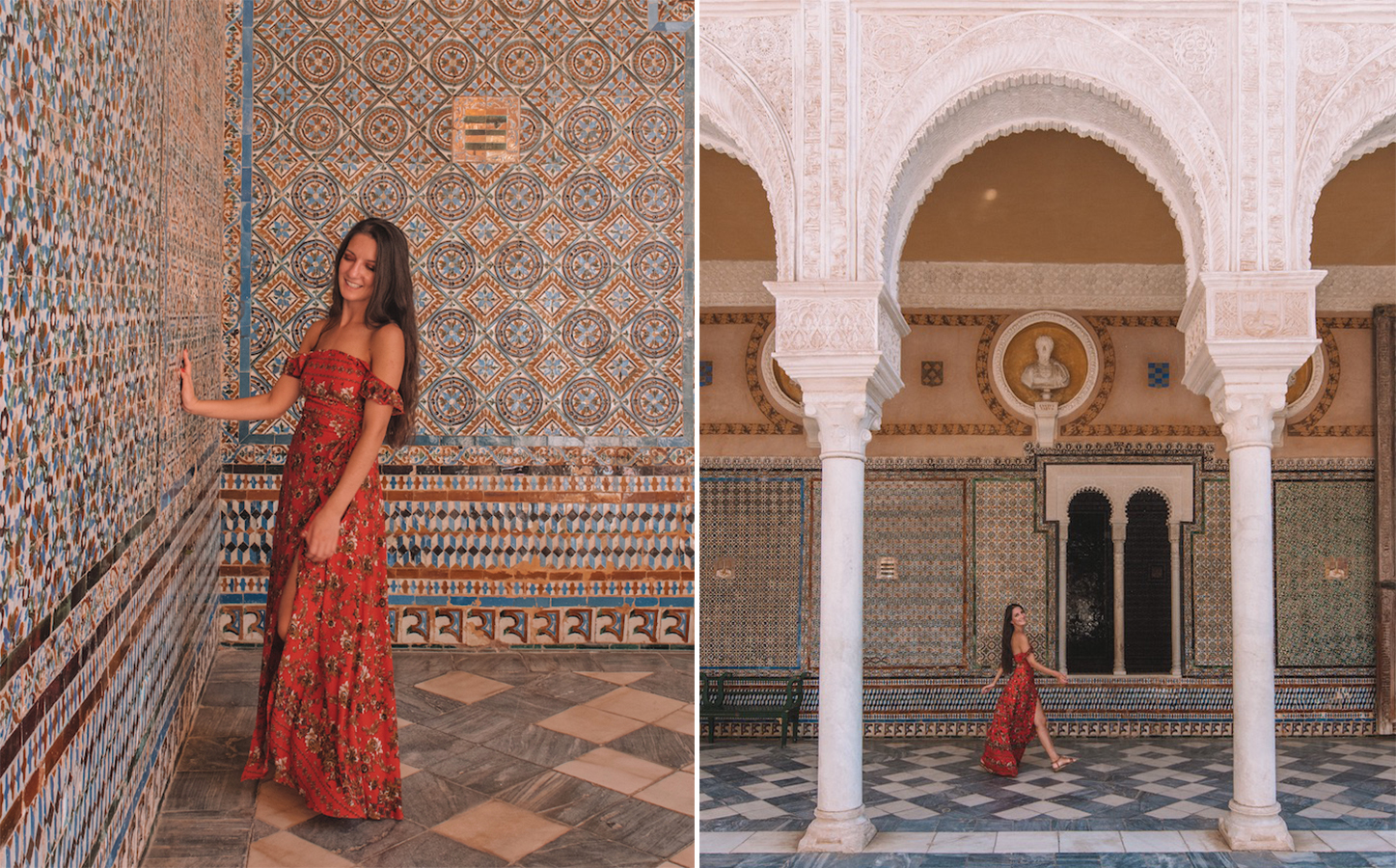 I couldn't get enough of all the details – inspiration overload! From the mix of colors to the geometric shapes and intricate carvings, there is something to admire in just about every corner. Marina and I couldn't stop talking about how much thought and beauty went into all this and is still there, in almost every single building in Seville. We could have spent a whole week in the city alone.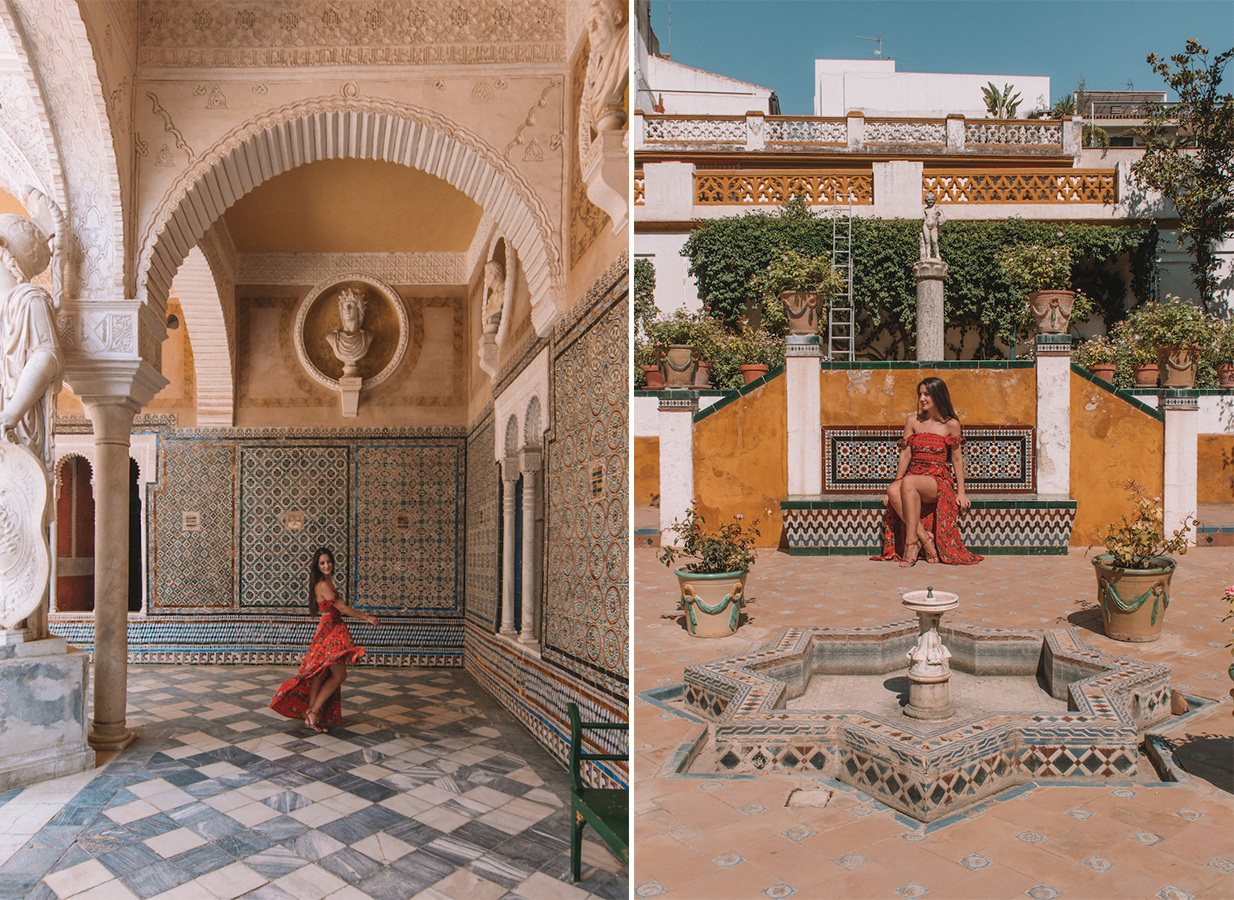 Fun fact number 2: la Casa de Pilatos appears in the movie Lawrence of Arabia.
Plaza de España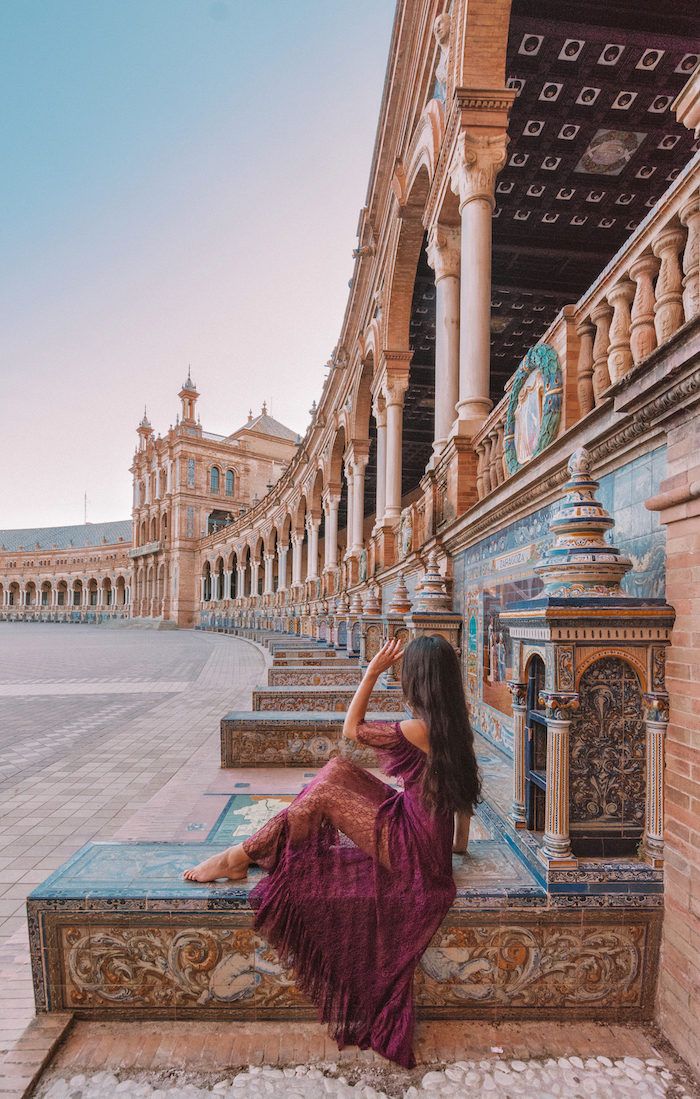 Located in Maria Luisa Park, this beautiful plaza is covered in yellow and blue ceramic details. During the day, it is usually full of people, but at sunrise you'll have it all to yourself. The buildings really light up and glow with the morning golden sun.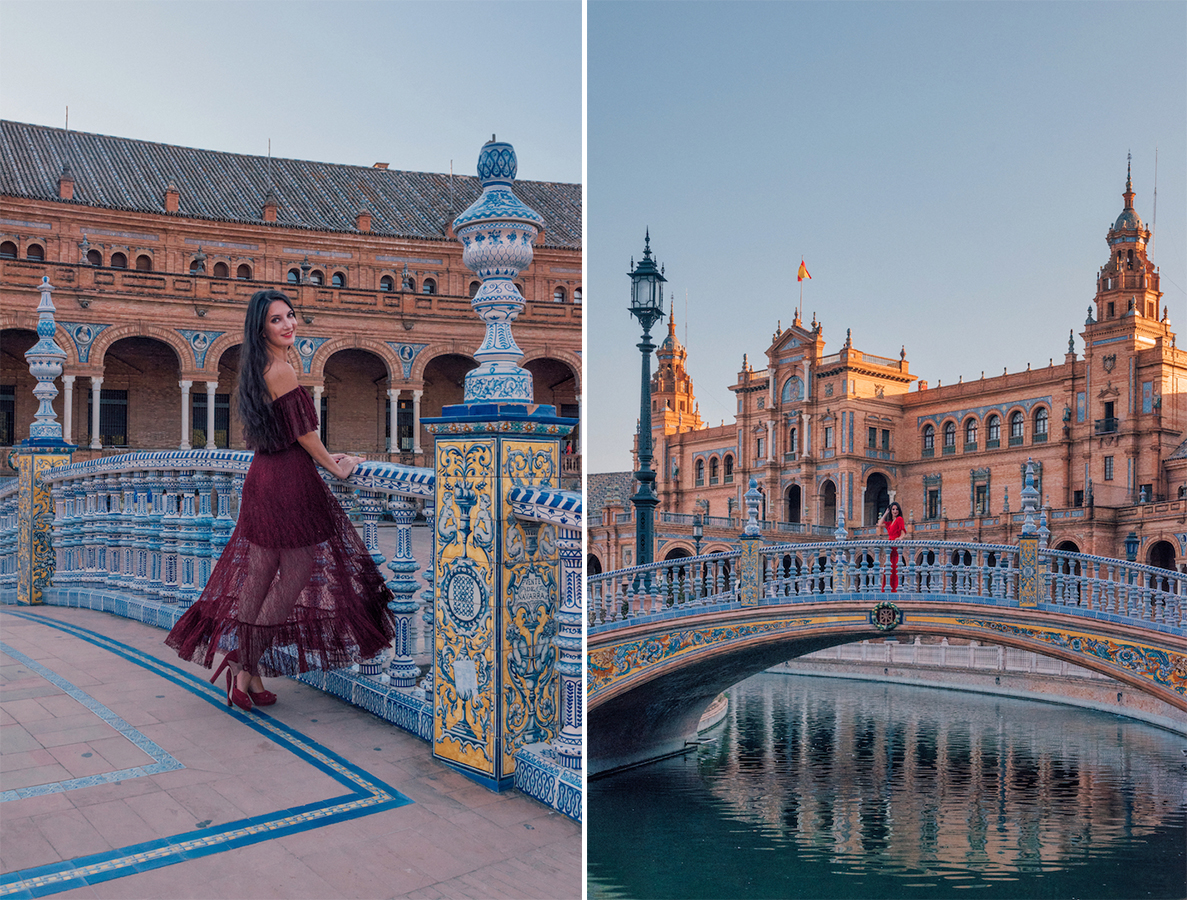 There are tiled alcoves representing the different regions of Spain along one side of the plaza, a moat (on which you can take a small row boat on) and four bridges that are probably the most recognizable part of the Plaza de España.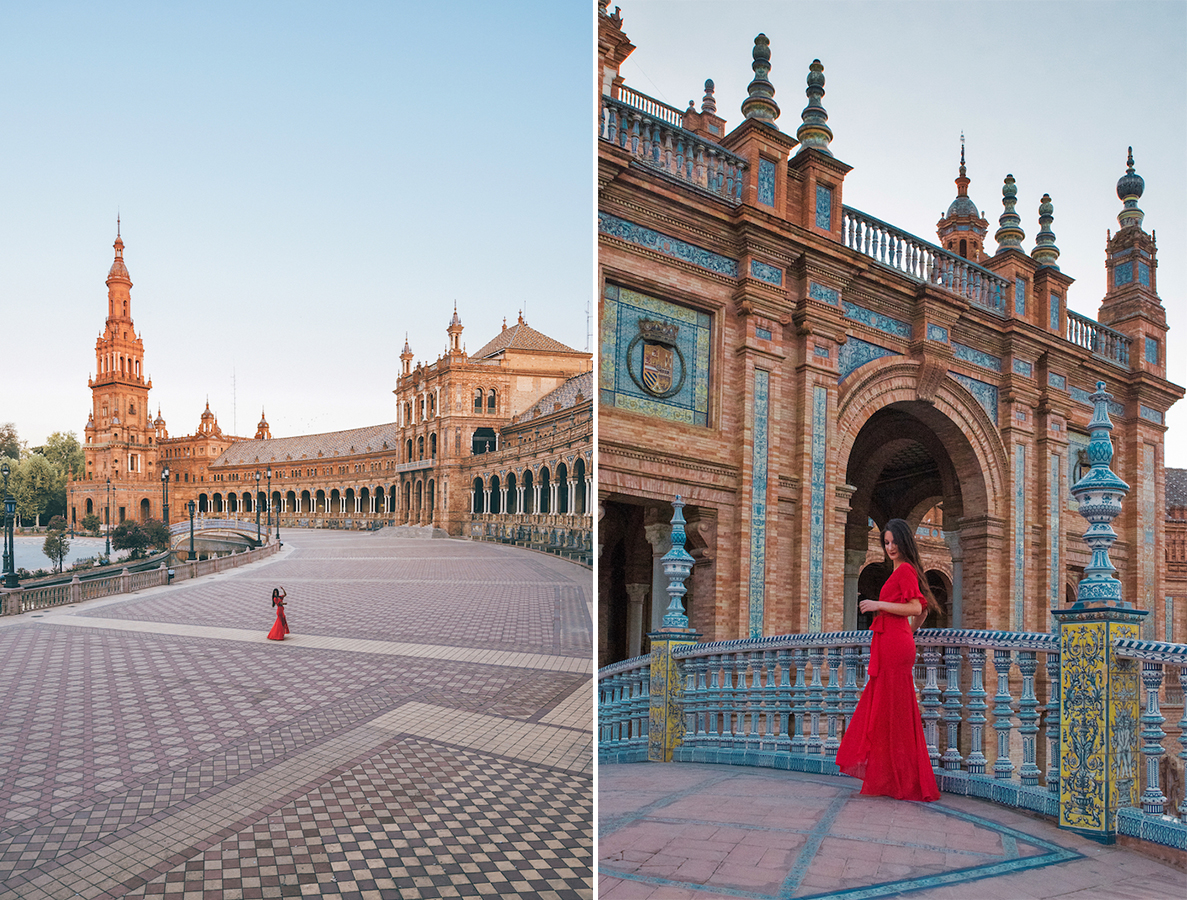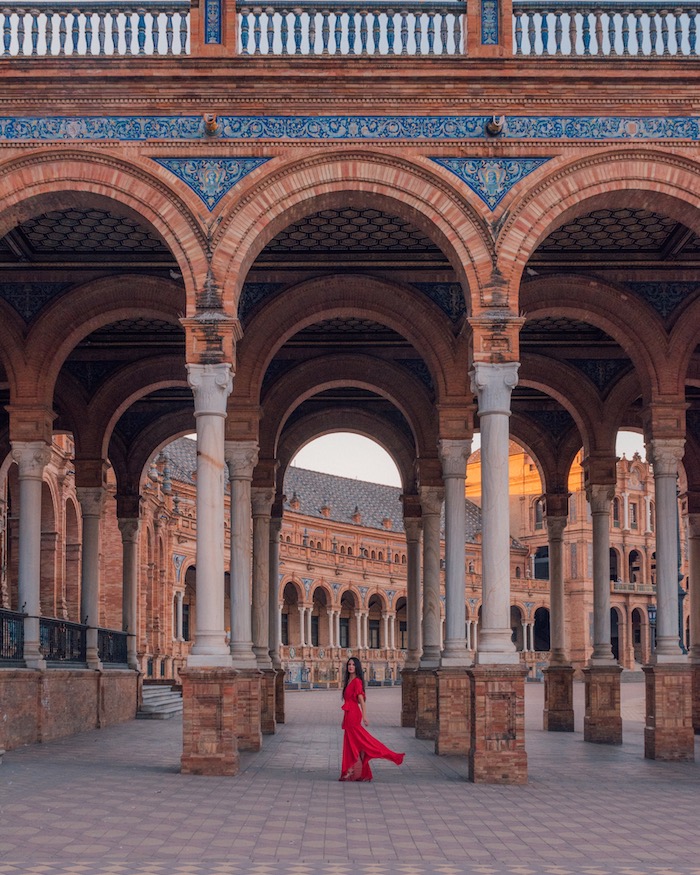 Fun fact number 3: do you remember Attack of the Clones From Stars Wars? Well this is where Anakin Skywalker and Padmé (and R2-D2) take a walk during their time on Naboo.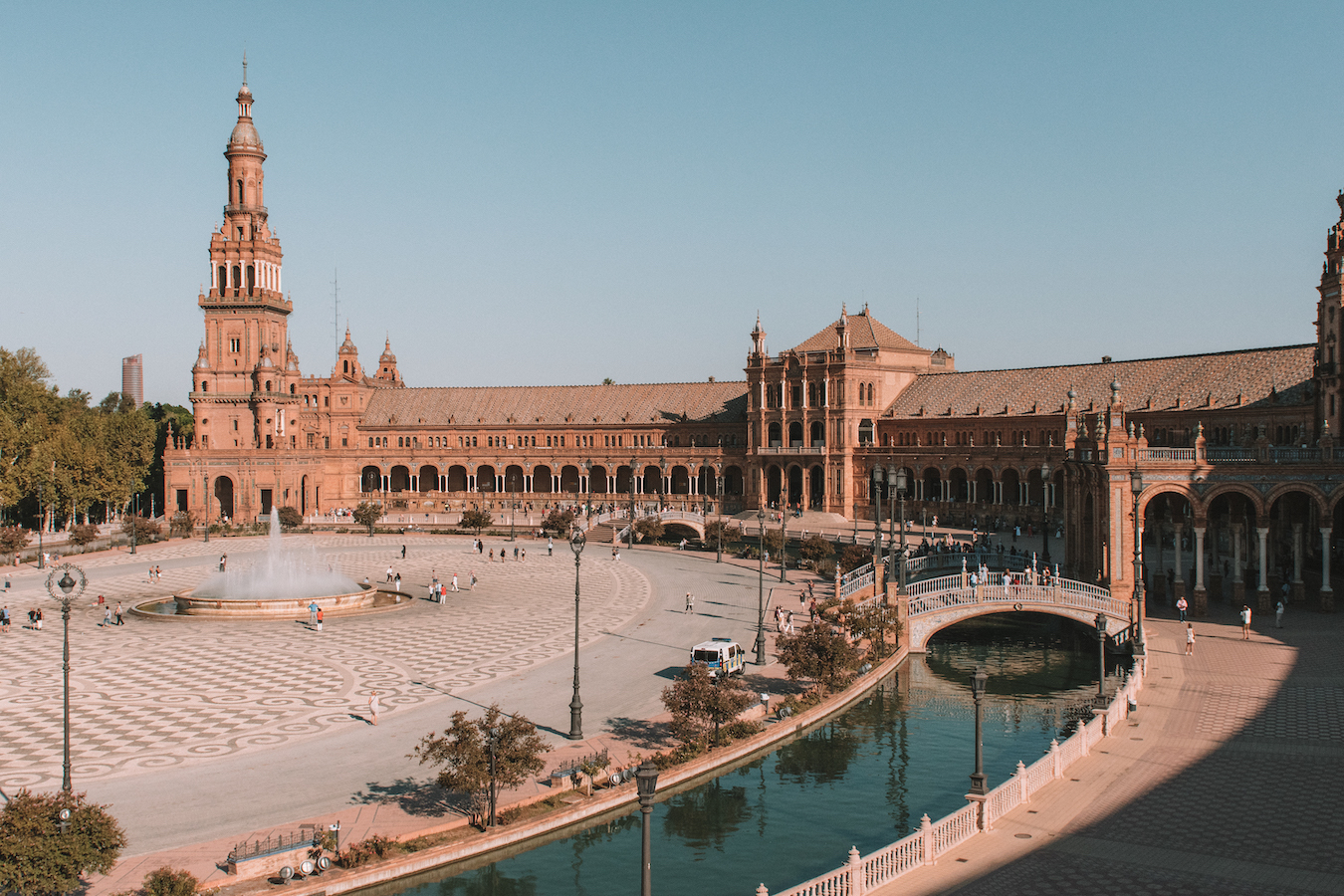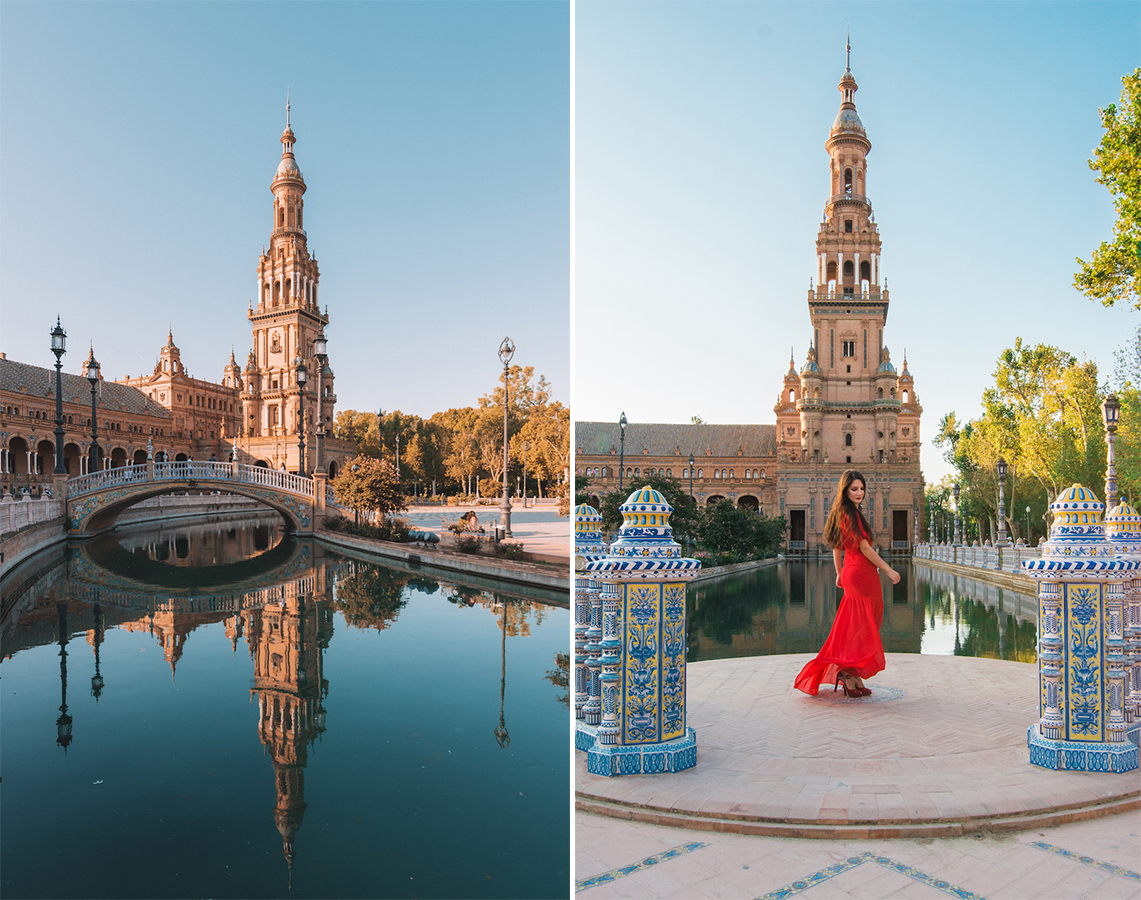 On a last note: wander. We did so, and enjoyed every second of it. We walked around, stopping when something caught our eye, which happened to be most of the time to be the beautiful and colorful Spanish tiles. Many of the doorways, floors and courtyards of homes in Seville have at least a small amount, if not an entire wall, of them. As I said, this city is truly beautiful and you'll be left in awe, everywhere you go.
Nathalie xx