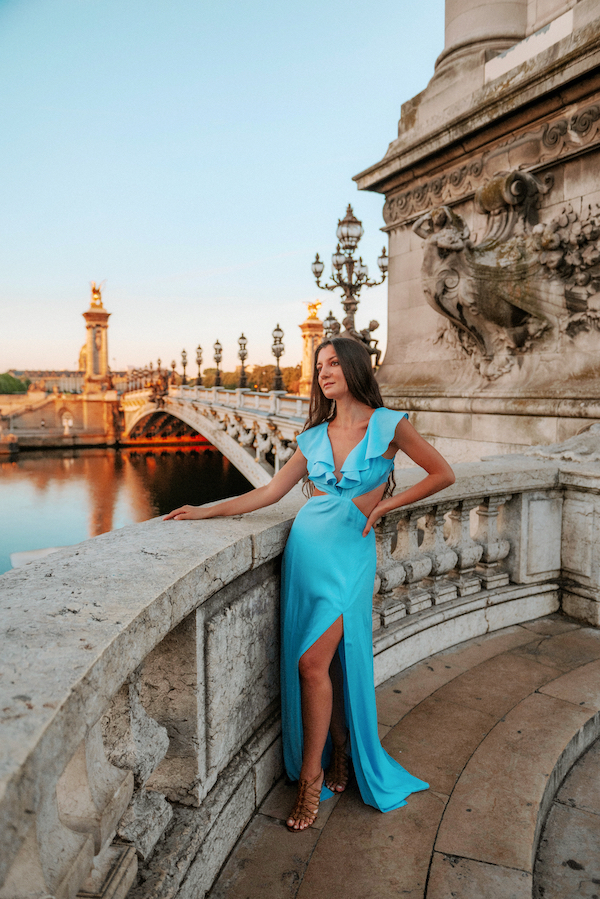 Ah, Paris in the summer – a dreamy and enchanting destination that effortlessly blends history, art, and romance. As the sun graces the City of Light with its warm embrace, the cobbled streets come alive, and the boulevards beckon fashion enthusiasts from around the world. For the fashion-conscious globetrotter preparing to embark on a Parisian summer adventure, the question arises: What to wear in Paris in summer to perfectly capture the essence of this chic and stylish city?
In this fashion-forward guide, we'll curate a delightful selection of wardrobe essentials that seamlessly fuse comfort, elegance, and a touch of Parisian flair. From strolling along the Seine to sipping café au lait at charming sidewalk cafes, we'll ensure you're dressed to impress for every picturesque moment you encounter in this city of everlasting allure.
Parisian summers are a delightful paradox of warm days and cool evenings, and the fashion capital embraces this unique climate with grace and sophistication. Whether you're indulging in haute couture shopping along Avenue Montaigne, exploring the magnificent Louvre, or simply losing yourself amidst the cobblestone charm of Le Marais, our carefully curated top picks will keep you looking effortlessly chic and feeling comfortable throughout your Parisian escapade.
So, dear fashionistas and jet-setting adventurers, join us as we dive into the world of fashion and unveil the secrets to assembling an impeccable summer wardrobe for your Parisian sojourn. From classic essentials to trendy statement pieces, we'll help you craft a sartorial story that captures the essence of Paris and leaves you with memories to cherish for a lifetime. Let's embark on this style journey together, and discover the magic that lies in dressing fashionably under the Parisian sun.
Check out my favorite outfits from Revolve to wear in Paris in summer here.
What to wear in Paris in summer
When it comes to knowing what to wear in Paris in summer, you can trust me as a born and raised Parisian to provide the most unbeatable insights. Summer in this exquisite city calls for a carefully curated wardrobe that effortlessly blends style and comfort. First and foremost, opt for breezy dresses in light fabrics, exuding a timeless elegance that perfectly complements the Parisian ambiance. A chic sundress paired with comfortable sandals will ensure you can wander the charming streets and iconic landmarks with ease. Don't forget to bring a versatile straw hat to shield you from the sun while adding a touch of sophistication to your look.
As the evening breeze sweeps through the city, a lightweight, stylish cardigan or a classic trench coat will keep you cozy during late-night strolls along the Seine. A selection of chic tops paired with tailored shorts is perfect for exploring the vibrant Parisian neighborhoods or unwinding in picturesque gardens like the Jardin des Tuileries. And, of course, no Parisian summer wardrobe is complete without a few pairs of trendy sunglasses to add that touch of allure to any outfit.
As a fashion and travel blogger, you know the importance of staying on-trend. In Paris, embracing subtle patterns and pastel hues is a surefire way to blend in with the locals and look effortlessly chic. Whether it's savoring macarons at Ladurée or sipping wine at a charming bistro in Saint-Germain-des-Prés, your fashion choices should reflect the city's refined yet laid-back ambiance.
Remember, Paris is a city that thrives on individual style, so feel free to add your personal flair to each ensemble. With these essentials in your suitcase, you'll be ready to bask in the magic of Paris during summer and create unforgettable memories that truly embody the essence of this captivating city.
Parisian summer day outfit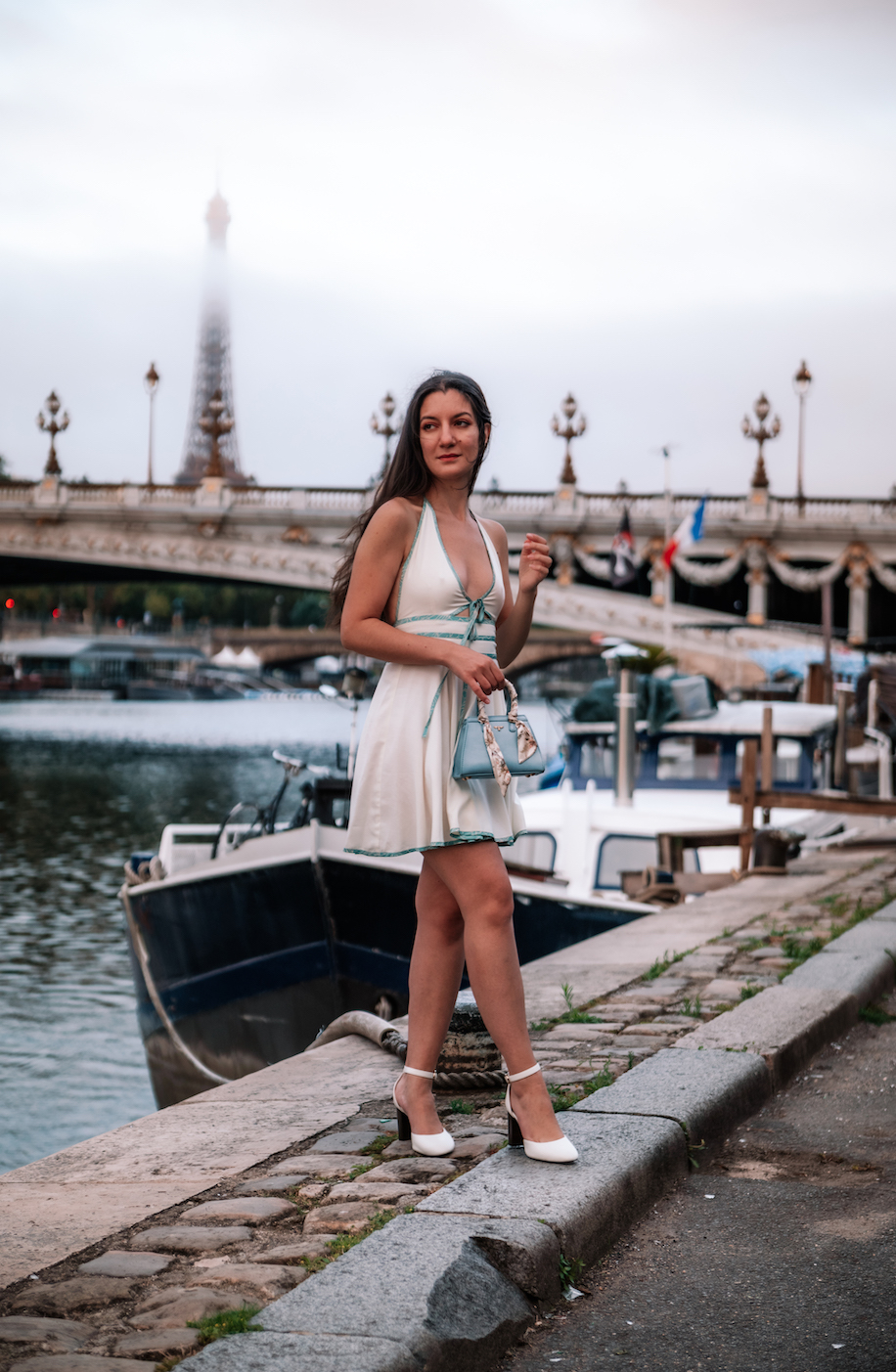 In the heart of a Parisian summer, the art of dressing casually takes on a whole new meaning. I can attest that you won't spot a true local strolling the elegant boulevards in sweatpants or hotpants. In Paris, casual exudes an understated elegance that is carefully crafted, though it may seem effortlessly chic at first glance. A quintessential summer day outfit for a Parisian would consist of tailored high-waisted shorts paired with a light, airy blouse, adorned with delicate embroidery or a subtle pattern. Or a light and graceful sundress, with subtle floral motifs or classic stripes, effortlessly capturing the essence of the season. Pair these with comfortable yet stylish espadrilles that perfectly complement the summer charm of the city.
To truly capture the essence of Parisian casual, accessorize with a classic straw tote, perfect for carrying your essentials while exuding a touch of effortless sophistication. And, of course, a pair of oversized sunglasses is a must to shield your eyes from the gentle summer sun while giving you that intriguing allure.
The beauty of a Parisian summer day outfit lies in its thoughtfully curated elements, meticulously chosen to reflect the city's timeless charm and embrace the season's warm embrace. So, when pondering over what to wear in Paris in summer, remember that casual here embodies a harmonious blend of comfort and style, a language understood and spoken by the true connoisseurs of fashion – the Parisians.
What to wear in Paris in summer to visit museums/ hit up a trendy coffee bar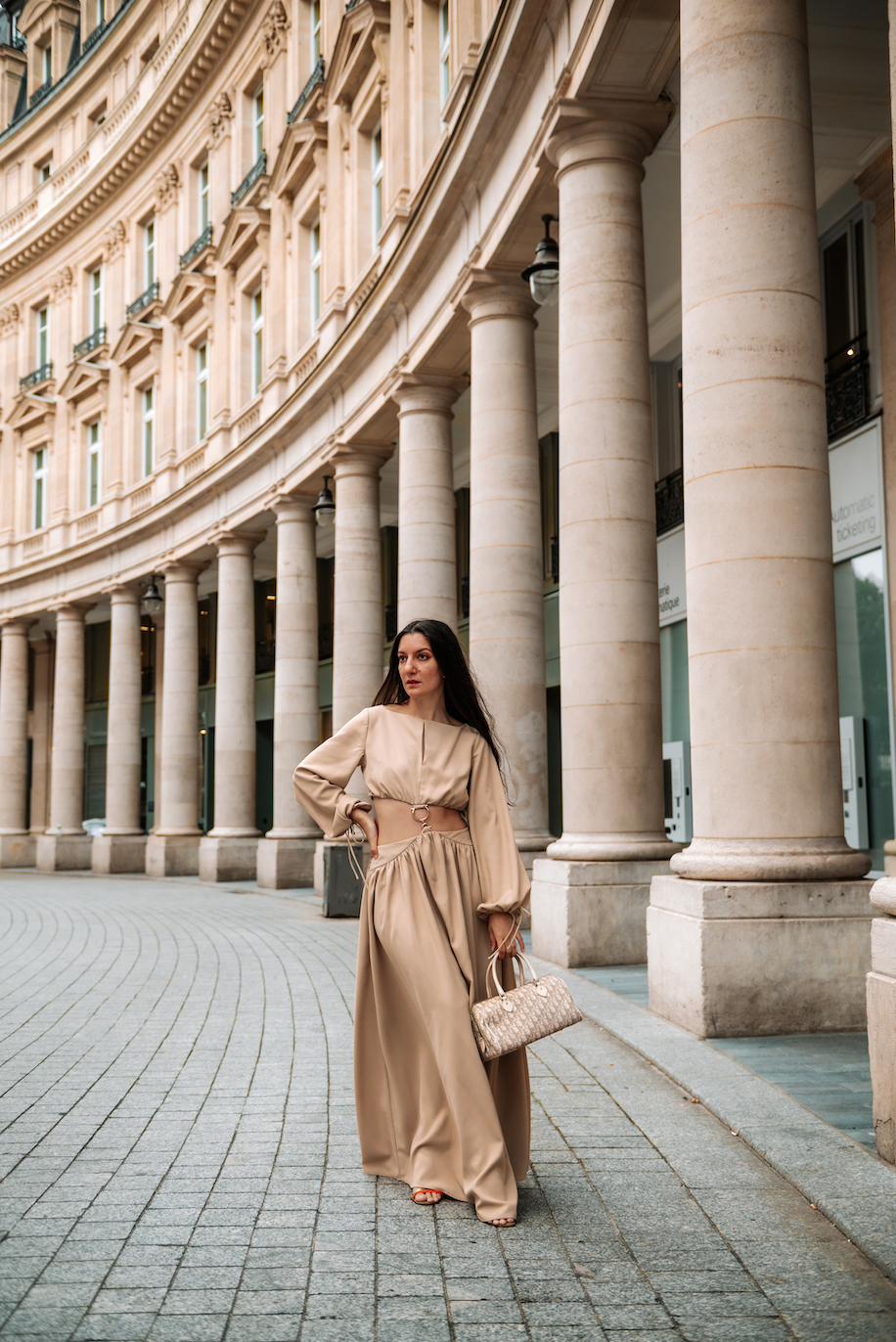 When venturing to explore the art-filled museums or savoring the aromatic delights of a trendy coffee bar in Paris during summer, your outfit should effortlessly merge sophistication with comfort. A perfect ensemble for these occasions might include a flowing dress in a breathable fabric, showcasing a delightful mix of elegance and ease. Paired with classic white sneakers, this look strikes the perfect balance between exploring the cultural wonders of the city and indulging in its vibrant café culture.
Consider adding a lightweight scarf or a delicate necklace to add a touch of flair to your outfit while maintaining a sense of understated elegance. A light cardigan or a stylish denim jacket can be easily draped over your shoulders, offering just the right amount of warmth as the day transitions into a balmy evening.
In Paris, style is celebrated, and the locals embrace a fashion-forward approach even while delving into art and culture or enjoying a leisurely coffee. So, when contemplating what to wear in Paris in summer, remember that combining sophistication and comfort is the key to mastering the art of dressing for museum visits and trendy coffee bar outings in this fashion capital.
Date night outfit to wear in Paris in summer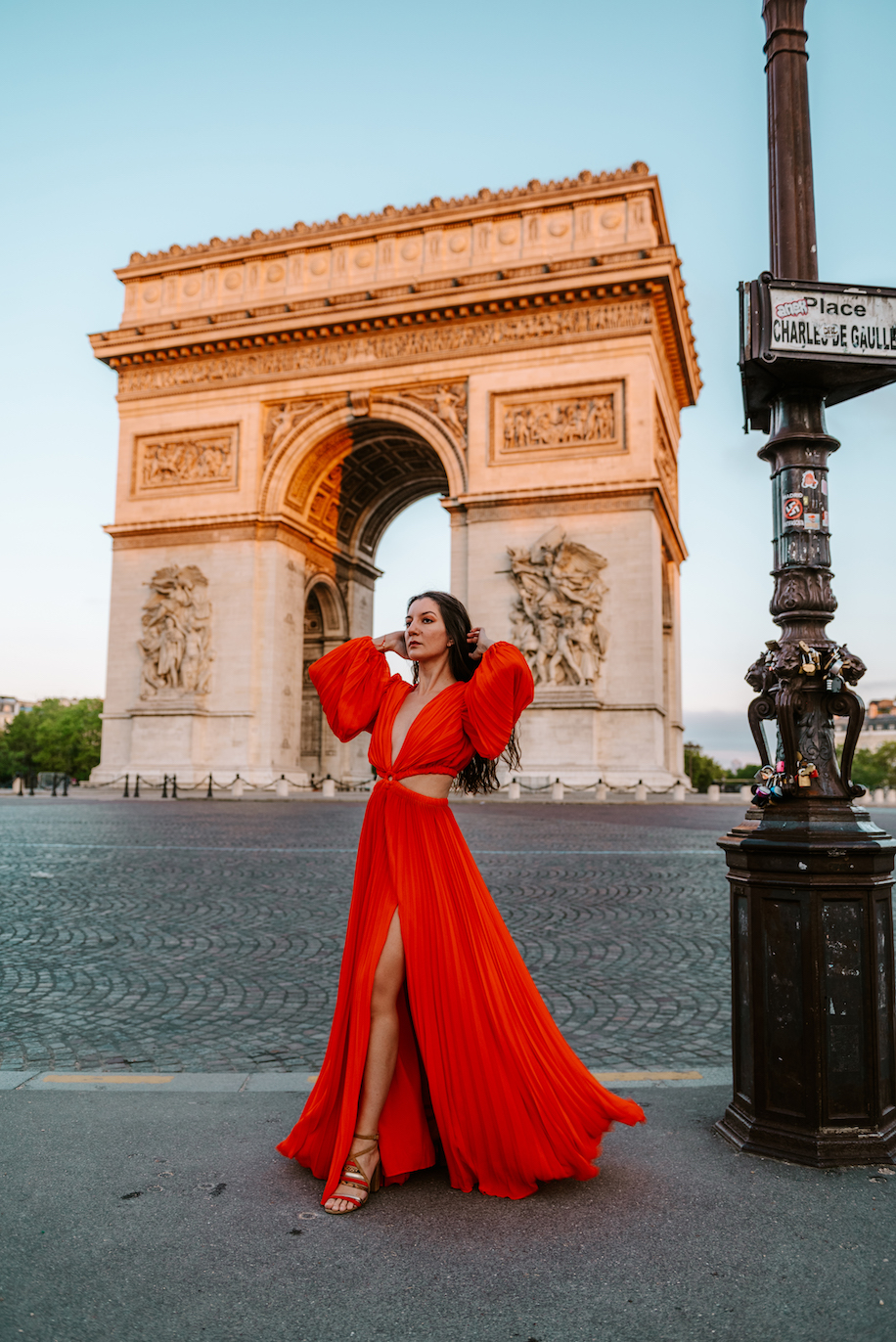 For a romantic date night in Paris during the mesmerizing summer season, an elegant long dress is the epitome of timeless allure and sophistication, making it a perfect choice for what to wear in Paris in summer. Picture yourself strolling along the Seine with your special someone, the soft glow of city lights illuminating the night. A flowing maxi dress in a luxurious fabric, will perfectly capture the enchantment of the moment. Choose a dress with a flattering silhouette that complements your figure, making you feel like a true Parisian goddess.
To complete this look of Parisian elegance, slip into a pair of sleek heels that exude grace and confidence with every step you take. The heels not only elevate your stature but also elevate the allure of your outfit, adding an air of sophistication that perfectly complements the romantic ambiance of the city.
Enhance your allure with delicate jewelry, such as a dainty necklace or elegant earrings, that adds a touch of sparkle without overpowering the elegance of your dress. As the evening breeze caresses the city, consider carrying a lightweight shawl or wrap that complements your outfit while providing just the right amount of warmth. Let your hair flow gracefully or opt for an effortless updo that exudes a touch of romance.
In Paris, date night outfits in summer are a celebration of love and style, where every detail is carefully chosen to create an unforgettable impression. With this captivating long dress ensemble, you'll embody the spirit of Parisian fashion, leaving a lasting memory of elegance and charm in the heart of the City of Light.
Fashionable cocktail outfits to wear in Paris in summer
For those enchanting Parisian summer evenings that beckon you to sip cocktails at fashionable haunts, dressing to impress becomes an art form. Embrace the chic ambiance of the city with a fashionable cocktail outfit that effortlessly exudes sophistication and allure. Opt for a stylish, short or knee-length dress adorned with intricate lace or subtle embellishments, capturing the essence of summer romance in the City of Light. Paired with elegant heels that elongate your silhouette and add a touch of glamour, this ensemble is sure to turn heads as you mingle with the stylish crowd at Paris's trendiest cocktail bars.
Accessorize thoughtfully with dainty jewelry and a sleek clutch that complements your outfit without overshadowing it. As the Parisian summer nights can be pleasantly mild, consider adding a tailored blazer or a chic wrap for that touch of refinement and warmth. With every element carefully curated, your cocktail outfit will embody the essence of Parisian fashion, reflecting the city's timeless allure and embracing the spirit of summer with grace.
When pondering what to wear in Paris in summer for an unforgettable night out, remember that elegance, attention to detail, and a dash of confidence are the true secrets to leaving a lasting impression in this fashion capital.
What not to wear in Paris in summer
When it comes to what not to wear in Paris in summer, there are a few fashion faux pas to avoid if you want to blend in with the chic Parisians. First and foremost, leave the sweatpants at home. While they may be comfortable for lounging, they are not the best choice for exploring the fashionable streets of Paris. Likewise, skip the stripper heels – overly high, flashy heels are not commonly seen on the stylish streets of the City of Light.
Another item to avoid is hotpants, as they can come across as overly revealing and out of place in this sophisticated city. Parisian style embraces a more refined and elegant approach, and modesty is key when considering what to wear in Paris in summer. Additionally, avoid going overboard with jewelry. While a touch of sparkle is lovely, too much bling can be overwhelming and detract from the overall elegance of your outfit.
Other items to steer clear of are loud, busy prints that clash rather than harmonize and excessively casual or ill-fitting clothing. In Paris, a well-thought-out and polished appearance is valued, and the key is to strike a balance between comfort and style. By avoiding these fashion don'ts, you'll be well on your way to dressing with the effortless sophistication that defines the chic Parisian allure.
What to pack to wear in Paris in summer to create a true Parisian look
To create a true Parisian look and embrace the essence of style during summer, packing the right essentials is key. As a fashion and travel blogger, you now have a comprehensive guide to curate a wardrobe that effortlessly embodies the chic allure of the City of Light. Start with breezy, flowing midi dresses in light fabrics, exuding timeless elegance for both day and night. Pair them with comfortable yet stylish sandals or sleek heels to complete your sophisticated ensembles to wear in Paris in summer.
Don't forget to include a selection of chic tops, tailored shorts, and a timeless white shirt, offering versatile options for exploring the city's charming neighborhoods and vibrant café culture. Layering pieces like lightweight cardigans or stylish denim jackets are essential for adjusting to the cool evenings while maintaining an elegant flair.
Embrace classic colors such as navy, beige, and black, which embody the refined Parisian aesthetic. These neutral hues serve as a perfect canvas for mixing and matching your ensembles, creating a sophisticated and cohesive wardrobe for your Parisian escapades.
Accessorize thoughtfully with delicate jewelry, oversized sunglasses, and a classic straw tote to add the perfect touch of allure to your outfits. Opt for subtle patterns and pastel hues that embody the Parisian love for understated sophistication.
In this fashion capital, it's always better to be overdressed than underdressed. The Parisian style revolves around an elevated sense of elegance and a strong appreciation for polished appearances. Whether you're dining at a charming brasserie or savoring a glass of wine at a rooftop bar, embracing a slightly more formal attire will help you effortlessly blend in with the chic locals and make you feel at home amidst the city's fashionable atmosphere.
Remember, Parisian style is not just about what to wear in Paris in summer; it's about curating an ensemble that feels effortless yet well thought through. The key is to embrace comfort while elevating your fashion choices with timeless elegance and attention to detail.
As you embark on your Parisian adventure, let the city's refined charm inspire your sartorial story. Whether you're strolling along the Seine, exploring world-class museums, or sipping coffee at a trendy bar, your carefully curated wardrobe will speak volumes about your love for fashion and your appreciation for the ever-enchanting Paris.
So, dear readers, embrace the spirit of the City of Light, and let your style shine brightly under the Parisian sun. With this wardrobe at your disposal, you're sure to leave a lasting impression and make beautiful memories that reflect the timeless allure of this extraordinary fashion capital. Happy travels and happy fashion-forward adventures!
Need more inspiration for Paris? Check out all my articles about the City of Light here.